Want to know one of our favourite kinds of phone? The type that offers high-end hardware for less than you might expect.
The Samsung Galaxy S20 FE is one of these phones. Buy one from Vodafone and you'll walk away knowing you got a good deal, and that's a pretty great feeling.
Samsung's Galaxy S20 FE is newer than the original Galaxy S20, and sits just below it price-wise. But you wouldn't know that from its spec list.
The Galaxy S20 FE has a state-of –the-art triple camera, including a 12MP Ultra-wide lens. But what does that mean? From wherever you stand you can take countless incredible photos, thanks to the three fields of view at your fingertips. The Galaxy S20 FE's 30x Space Zoom will also allow you to capture extremely distant objects without sacrificing quality, so your photos of cute puppies down the local park will get a serious level-up.
It's also just as powerful as the big bad Galaxy S20 Ultra. Buy the 5G version as you get the Snapdragon 865 CPU, which might be our all-round favourite processor of the last 12 months. There's a 4G version too for those who don't need next-generation mobile internet, which has the very same Exynos 990 processor as Samsung's premium models.
You might want to consider the bump up to 5G, because the difference in cost is not all that great.
Let's look at those prices
As ever at Vodafone you have a whole stack of contract options with either phone, but let's look at a few of them.
Vodafone's Red 24GB is a good place to start. You'll pay £57 a month with a low £29 up-front fee for the Galaxy S20 FE 5G, and that nets you unlimited calls and texts, plus 100GB of data each month.
If you want Spotify, YouTube Premium or Amazon Prime you can effectively save money each month by upgrading to Vodafone's Red 24GB with Entertainment plan. This includes a subscription of your choice for the length of your contract, for only £7 extra.
Check out the Samsung Galaxy S20 FE 5G on Vodafone's Unlimited Max plan if you want to really see what 5G can do. This is what we like to call a "plan of our dreams", an unlimited data deal with unrestricted speed. And at £61 with Vodafone's current £6 off deal, it may not cost as much as you'd guess.
Don't need 5G? You can spend less on the 4G Samsung Galaxy S20 FE. It costs £55 a month on Vodafone's Red 24GB plan, which drops to just £38 if you tend to use Wi-Fi and can get by with 6GB data a month.
Both of these plans let you roam freely in 51 locations without fees. Handy for when we can all go on holiday again.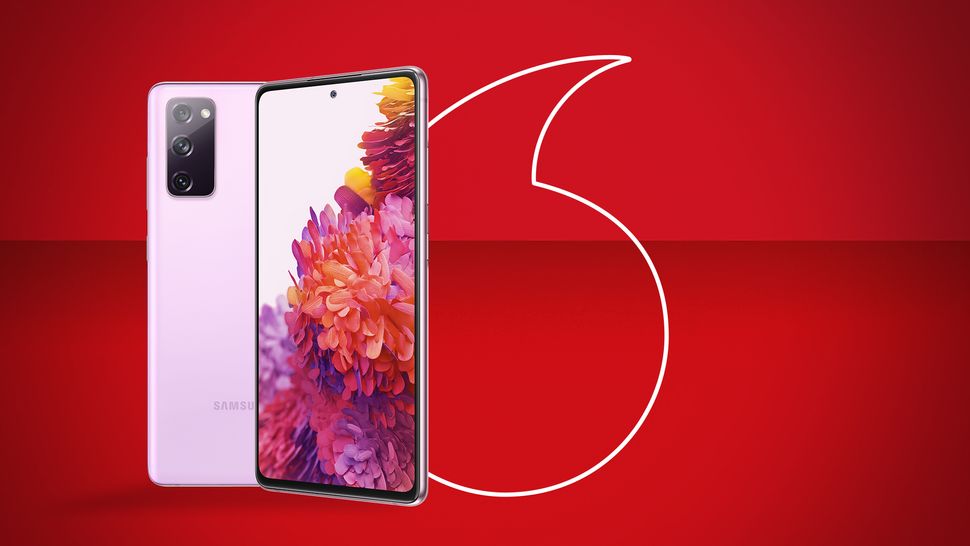 Back to the classic: Galaxy S20
If you'd prefer an all-glass and aluminium phone, don't forget the original Galaxy S20 5G too. We love the way the front curves at the sides, for a zero-bezel look. The screen is even sharper than the those of the S20 FE phones too.
The Samsung Galaxy S20 5G deserves a plan like Vodafone's Unlimited Max. This offers unlimited data at the fastest speeds available, wherever you are. And it is currently available at a £6 discount, bring the monthly cost down to £65.
This plan also comes with Vodafone's Global Roaming Plus. It extends the wide travel freedom of other Vodafone plans from 51 destinations to 81, including the USA, Mexico and Australia.
Add this sort of versatility to the speed of 5G and you're talking about a next-gen phone experience. Vodafone's 5G networks offers an average 5G speed of 215.2Mbps, beating every other UK network. And probably your home internet too.
Samsung's Galaxy S20 and Galaxy S20 FE range are available from Vodafone today.