Baking traditional biscuits during the festive season never fails to get us ready for the Holidays, so when we found this tasty air fryer gingerbread cookies recipe on Instagram we couldn't wait to give it a try. 
Fast becoming the must-have small appliance this winter, one of the best air fryers is on the wish list for many of us. We're big fans of the latest air fryers for a number of reasons. But mainly, their impressive time and money-saving features make them a worthwhile investment and useful worktop appliance to have to hand. 
We've seen lots of cookie recipes online that allow you to bake in the air fryer with ease, so when we saw the air fryer gingerbread cookies recipe on Instagram from @airfryingfoodie (opens in new tab) we thought we'd give it a whirl. We've outlined the recipe below and given our verdict to include any tweaks you may like to try and get your gingerbread cookies baked to perfection. Keep reading to find out how we got on.
Best air fryer deals
If you're gunna make these air fryer gingerbread men, you're going to need an air fryer (if you haven't got one already)…
Air fryer gingerbread cookies recipe 
The air fryer gingerbread cookie recipe we opted to follow for the holidays is from @airfryingfoodie on Instagram. It looks mega easy to follow, and the results look rather tasty.
Make ahead and you can store the dough wrapped in clingfilm for up to 7 days. You can also freeze uncooked cookie dough in the freezer for up to 3 months. Once cooked, you can store the cookies in an air-tight bag or in an air-tight tin for up to 3 weeks. 
Air fryer gingerbread cookies ingredients 
We followed the recipe for air fryer gingerbread cookies by @airfryingfoodie, which we've jotted below for you: 
Ingredients:
2 x 3/4 cups all-purpose flour
1 tsp baking soda
½ tsp ground cinnamon
½ tsp ground nutmeg
1/2 tsp ground ginger
½ tsp salt
1/2 cup butter softened
3/4 cup brown sugar
1 large egg
⅓ cup molasses
1 teaspoon vanilla
Air fryer gingerbread cookies method
We read that the recipe suggests baking the cookies for 8-10 minutes at 176°C (348.8°F). We used the Ninja Foodi Max Health Grill & Air Fryer AG551UKDBCP (opens in new tab), which features variable temperature settings and up to 6 cooking functions to grill, air fry, roast, bake, reheat, and dehydrate. As the temperature goes up in 10°C increments, we decided to bake at 170°C (338°F) for 8 minutes.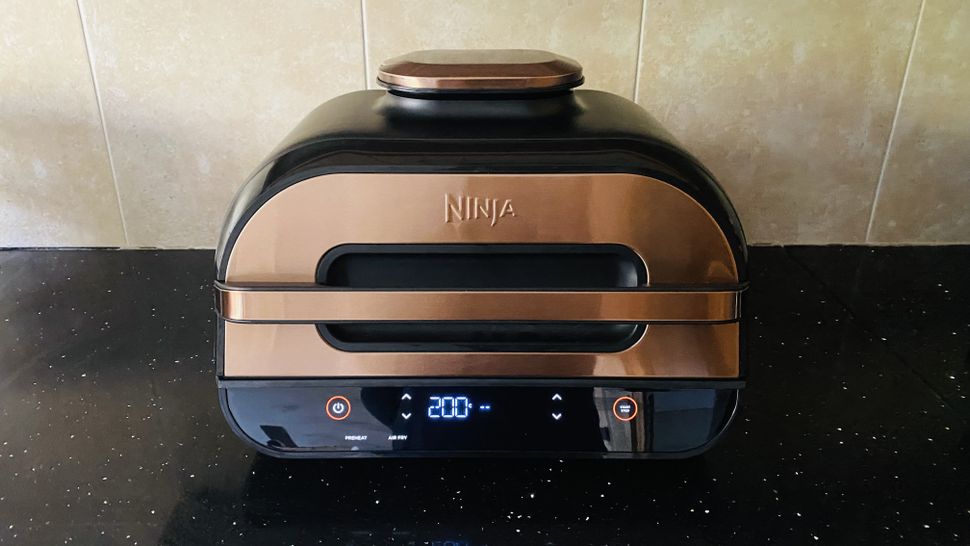 The method we followed was very straightforward, and we even used the Reheat function on the air fryer to melt the butter for step one. Once the butter was melted it was just a matter of mixing everything together and chilling the dough in the freezer before cooking. 
Step 1: In a medium bowl, combine the flour, baking soda, ginger, cinnamon, nutmeg, and salt in a bowl, then set the bowl aside.
Step 2: In a large bowl, or stand mixer, add the butter and sugar. Beat together at medium speed. Add in the egg, vanilla, and molasses. Continue mixing on medium speed until well combined. 
Step 3: Slowly, add in the flour mixture, and continue mixing until all ingredients are combined. Scrape the inside of the bowl if needed. 
Step 4: Wrap and chill dough for about 30 minutes.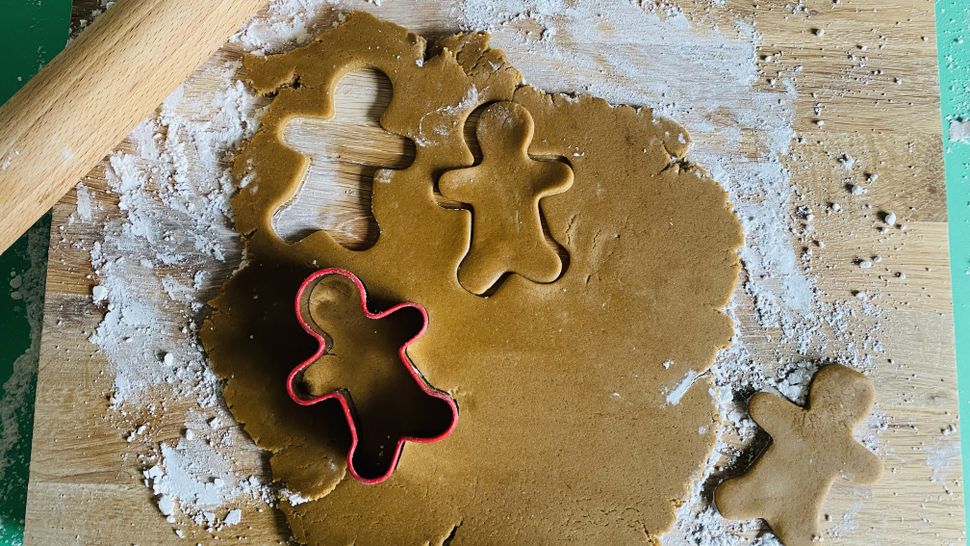 Step 5: On a lightly floured surface, roll the dough about ¼ inch in thickness. Use cookie cutters to cut into your favorite shapes.
Step 6: Place cookies in the air fryer basket, lined with parchment paper.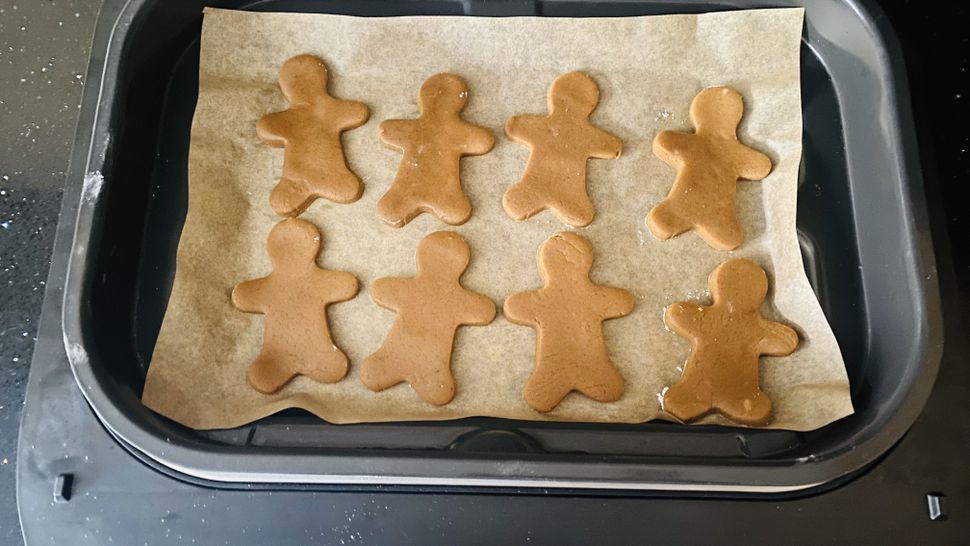 Step 7: Air fry at 176°C for 8-10 minutes until dough is cooked. Adjust as you see fit. We tried 5 minutes at 170°C
Step 8: Allow cookies to cool for 2-3 minutes before removing from the air fryer basket. Then transfer cookies to a wire rack to cool completely.
Air fryer gingerbread cookies recipe verdict 
While it's best practice not to interrupt your baking cycle mid-way, we opened up the lid of the air fryer halfway through the six-minute cycle to see how well the cookies were doing. On our first attempt, we baked the cookies for 8 minutes at 170°C but found that the cookies came out a little overcooked and burnt a bit too much on the sides. Once the cookies had cooled down, they began to harden a little too much for our liking.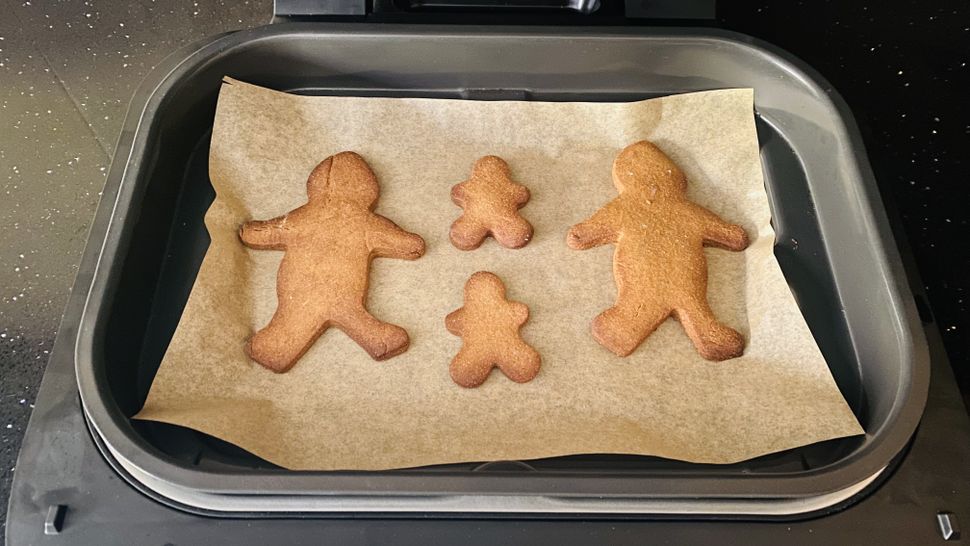 Learning from our mistakes, we made a second batch and baked them for 6 minutes at 170°C and the results were much more pleasing. While the gingerbread cookies looked a little paler than our first batch, they were nicely cooked and retained a hard crunchy exterior with a nice soft center. All we needed to do then was wait for them to cool down and decorate.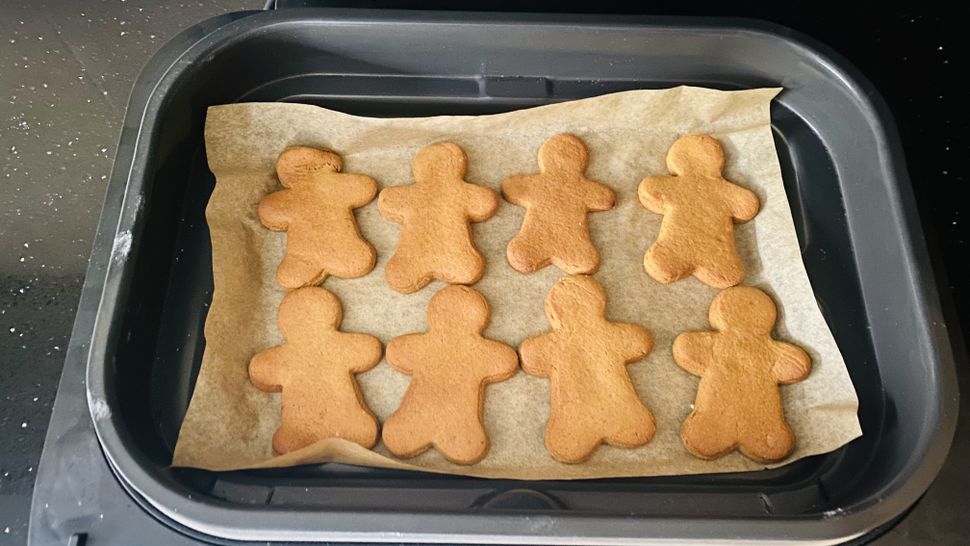 A little trial and error got us the results we were after when making our gingerbread cookies. As air fryers are very powerful and cook foods at a high temperature, quickly, you'll need to be mindful when choosing the perfect setting to bake a batch of cookies. Remember that the cookies will harden a little more as they cool so it's best not to over-bake them in the air fryer.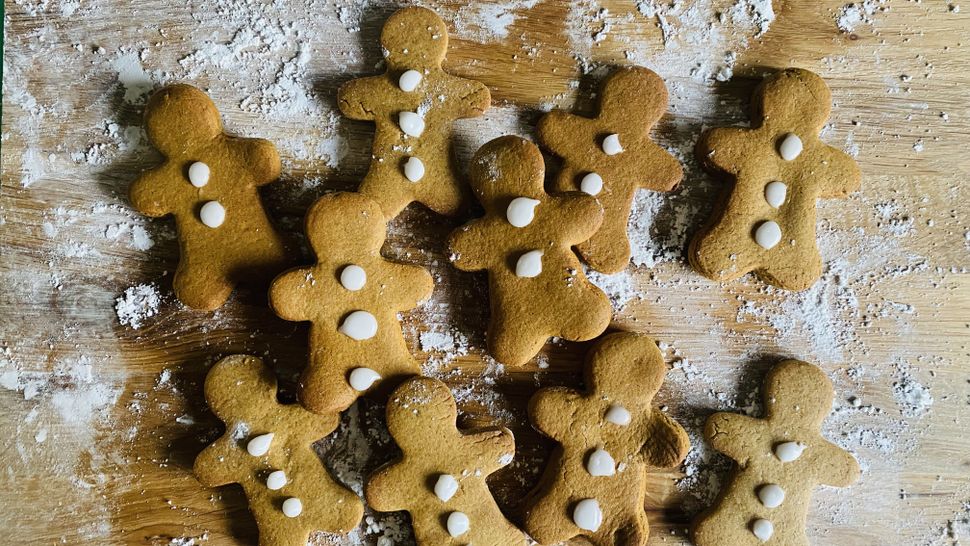 Yep, so now we know. Not only can an air fryer create speedy starters and main meals, but the latest designs are excellent for sweet treats and baking too. The focus here is on speed, without compromising on taste, and that's why making cookies in the air fryer is such an attractive idea. 
If you're looking for more cookie ideas, we also love the look of the @airfryongfoodie Air Fryer White Chocolate Chip Peppermint Cookies (opens in new tab). The Air Fryer Christmas Brownie Mix Cookies (opens in new tab) is also worth a try and uses a ready-made cookie mix for even more speedy results. 
We found that provided you get the temperature and timings right, you get that crunchy outer layer with a moist and chewy center, which tastes delicious. What's more, faster cooking times can mean reduced energy consumption – and therefore cheaper electricity bills, too. If you're still sitting on the fence and wondering whether to buy an air fryer, you may want to read our article to decide are air fryers worth it?