The gaming laptop to beat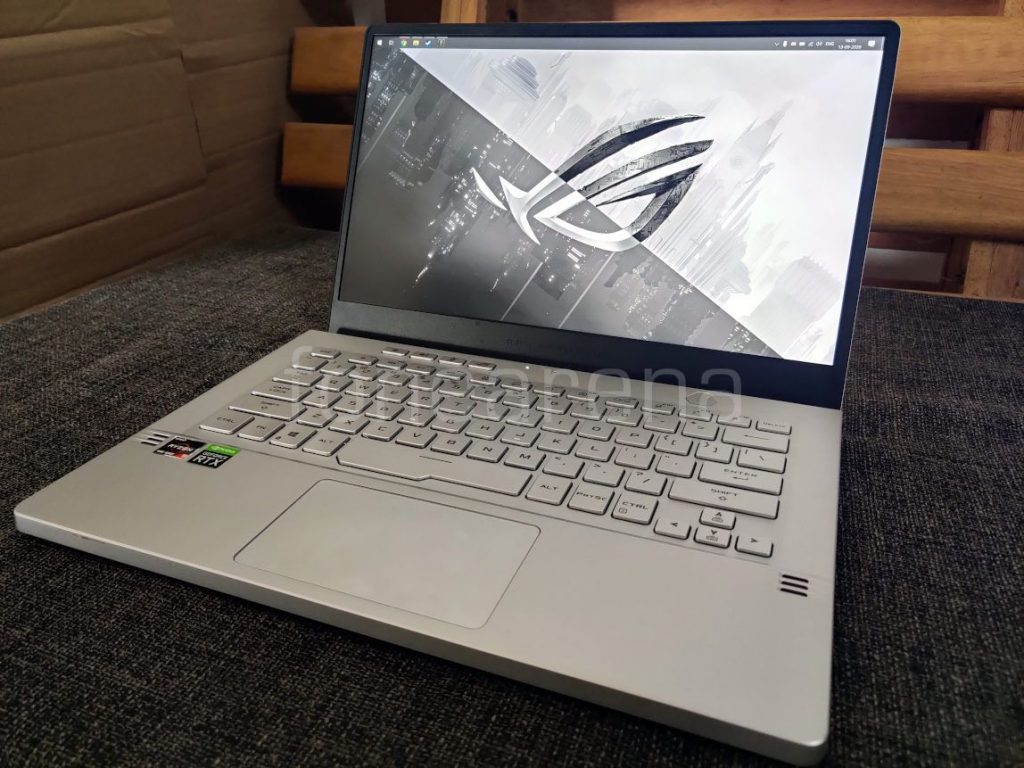 When ASUS announced their line-up of gaming laptops for the year 2020, they surprised everyone by choosing AMD's Ryzen 4000 mobile series processors for their entire ROG line up. ASUS introduced a laptop in the ROG Zephyrus line, called the Zephyrus G14 and since its announcement, the laptop has been creating a lot of interest in the gaming community for being a really portable gaming machine with crazy performance.
ASUS last month finally launched the ROG Zephyrus G14 in India, starting at a price for Rs. 80,990. For this review, we have the top-end model which is configured with the 8-core AMD Ryzen 9 4900HS processor, an NVIDIA RTX 2060 GPU along with the optional Anime Matrix display. These are powerful specs on paper for a laptop that is as small and slim as the Zephyrus G14. Does the laptop deliver on its promised performance for both gamers and creators? Read on in my review.
ASUS ROG Zephyrus G14 GA401IV (Moonlight White) specifications
Processor: AMD Renoir R9-4900HS
GPU: Nvidia RTX 2060 (Max-Q)
Display: 14-inch WQHD (2560×1440) IPS-level panel, 60Hz, 100% sRGB,
Pantone Validated with AMD FreeSync
Memory: 16GB DDR4 3200MHz SDRAM,
Storage: 1TB M.2 NVMe PCIE 3.0 SSD
Wireless:Intel® Wi-Fi 6 (802.11ax), Bluetooth 5.0
Audio: 2x 2.5W speakers with Smart AMP technology, 2x 0.7W tweeter, Array Microphone
Keyboard: Backlit Chiclet Keyboard, N-key support, 1.7mm travel distance, 4 Hotkeys, Power key with Fingerprint
Connectivity: 1 x USB3.2 Gen2 Type-C with DisplayPort 1.4 and Power Delivery; 1 x USB3.2 Gen2 Type-C; 2x USB3.2 Gen1 Type-A; 1x HDMI 2.0b;   1x 3.5mm headphone and microphone combo jack; 1x Kensington Lock
Operating system: Windows 10 Home
Battery: 76whr; 180W Power Adaptor
Size: 32.4 (W) x 22.2 (D) x 1.99 (H) cm
Weight: 1.7kg (AniMe Matrix version)
Design and Build Quality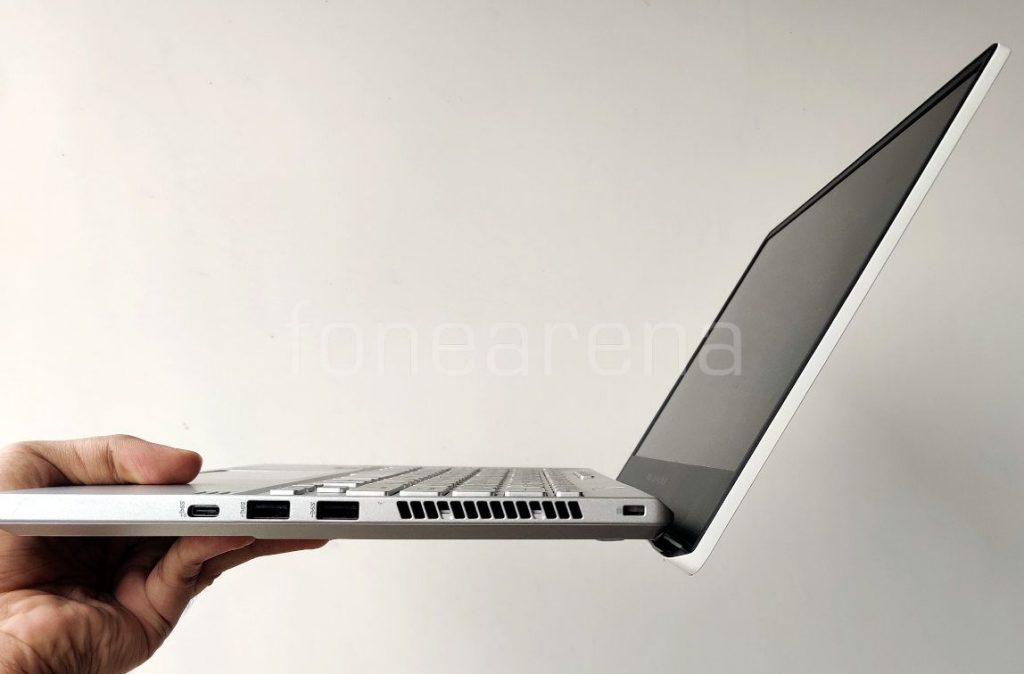 The design of the Zephyrus G14 is quite unique for a gaming laptop. I find the laptop looks premium and stylish, and while it is not completely minimalist, it definitely does not scream "gaming laptop" anywhere. The chassis is made out of a magnesium-aluminium alloy that is CNC machined, ensuring really good structural rigidity. There is basically no deck flex and the laptop lid is rigid too. It measures in at 1.99mm thickness, which is impressively thin considering it spec sheet.
Branding is quite minimal too — one "ROG Zephyrus" text found on the bottom chin of the main display and a small metal plate can be found on the bottom right of the laptop's lid that shows the ROG logo and the text, "Republic of Gamers, est. 2006".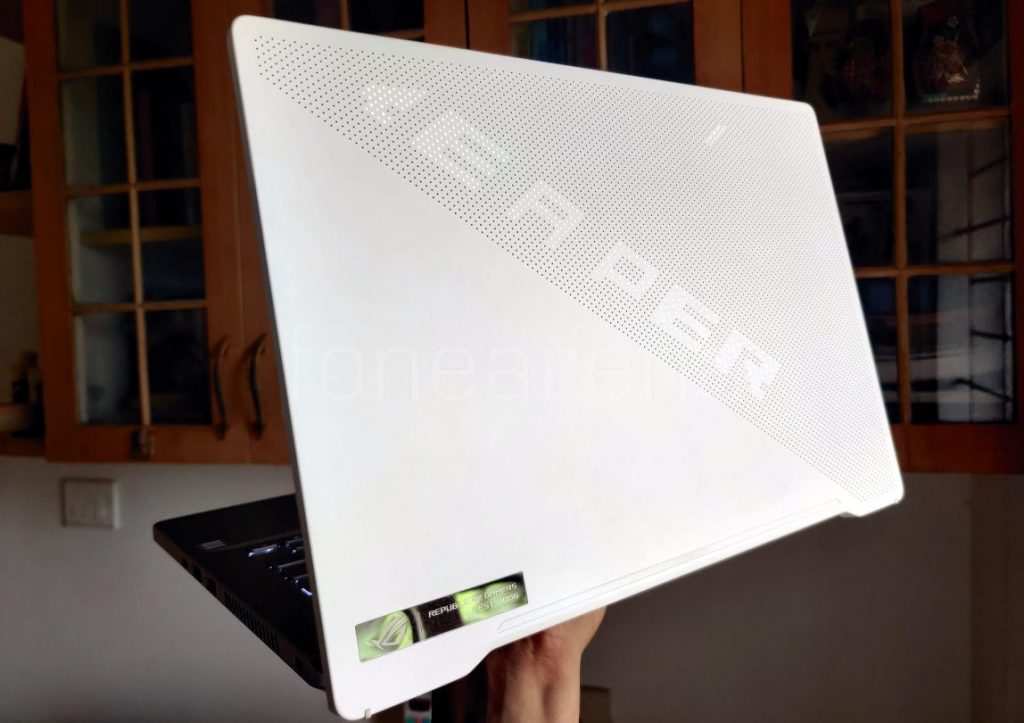 The laptop lid is also where you can see a unique element of the Zephyrus G14 — the AniMe Matrix display with its 1,215 mini LEDs. The display is easily its most eye-catching element and while I expected it to look gimmicky at first, I ended up absolutely loving how it looks, and I am really happy with the way ASUS has implemented it. I'll come back to more information on the AniMe Matrix later on.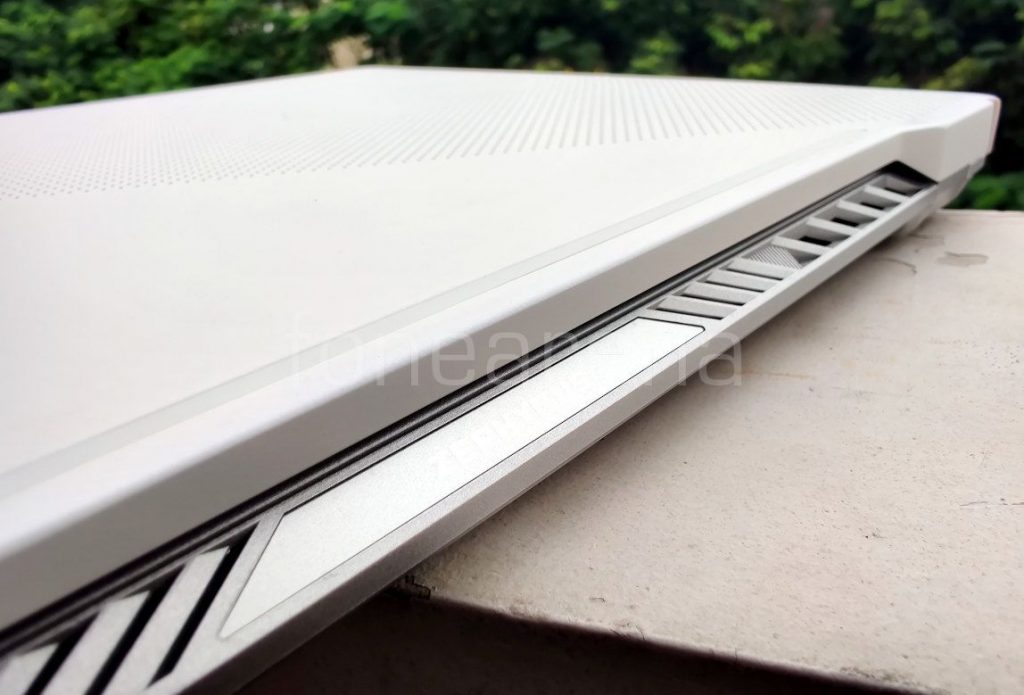 An element in ASUS's design language is their Ergolift hinge which can be found on their Zenbook series of laptops and now, ASUS has introduced it to their ROG line. What it does is lift the rear of the laptop by about 1.5cm through its hinge design and this serves two purposes — it improves airflow for the fans and it lifts the angle of the keyboard for a more comfortable typing position. The hinge itself feels great, with a perfect amount of tension to make it easy to open with one finger, at the same time preventing the screen from wobbling.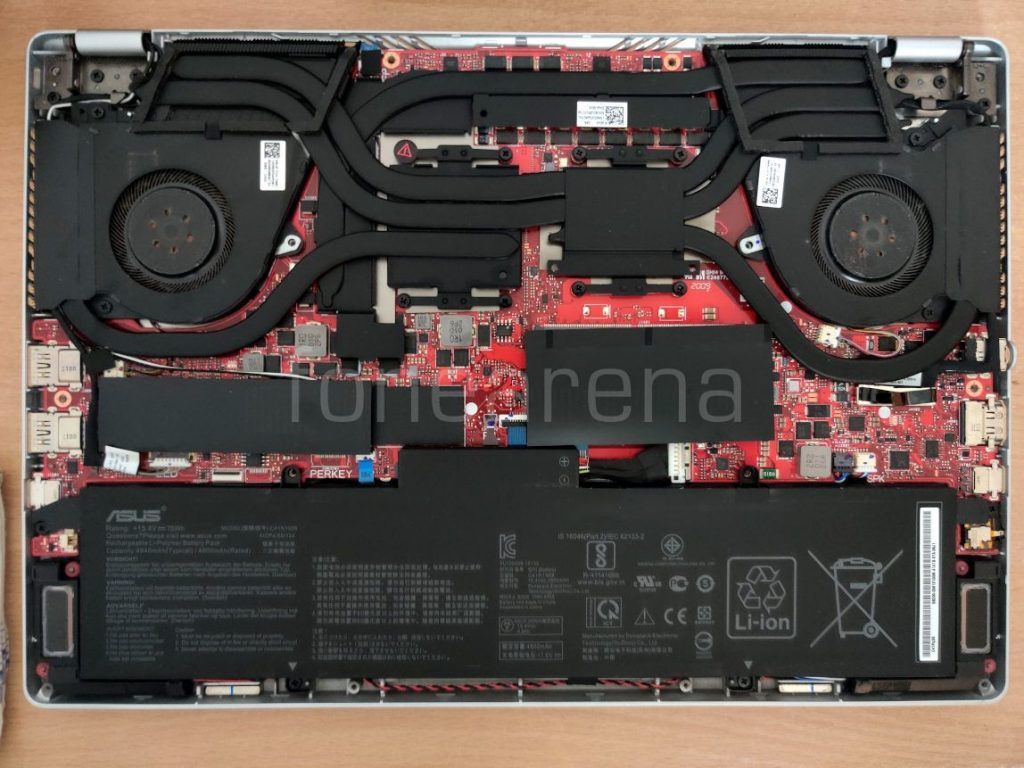 Opening up the device is quite easy. There are 14 screws, where the last one (bottom right) screw is a pop-up screw that makes it easy to open the bottom lid without extra tools. Once open, you have access to both the M.2 and RAM slots.
Probably the only design choice that I do not agree with is the top-firing speaker grill which does not match the premium aesthetic of the entire laptop. However, at this point I'm simply nit-picking and it should not too much of a bother.
Display(s) and Sound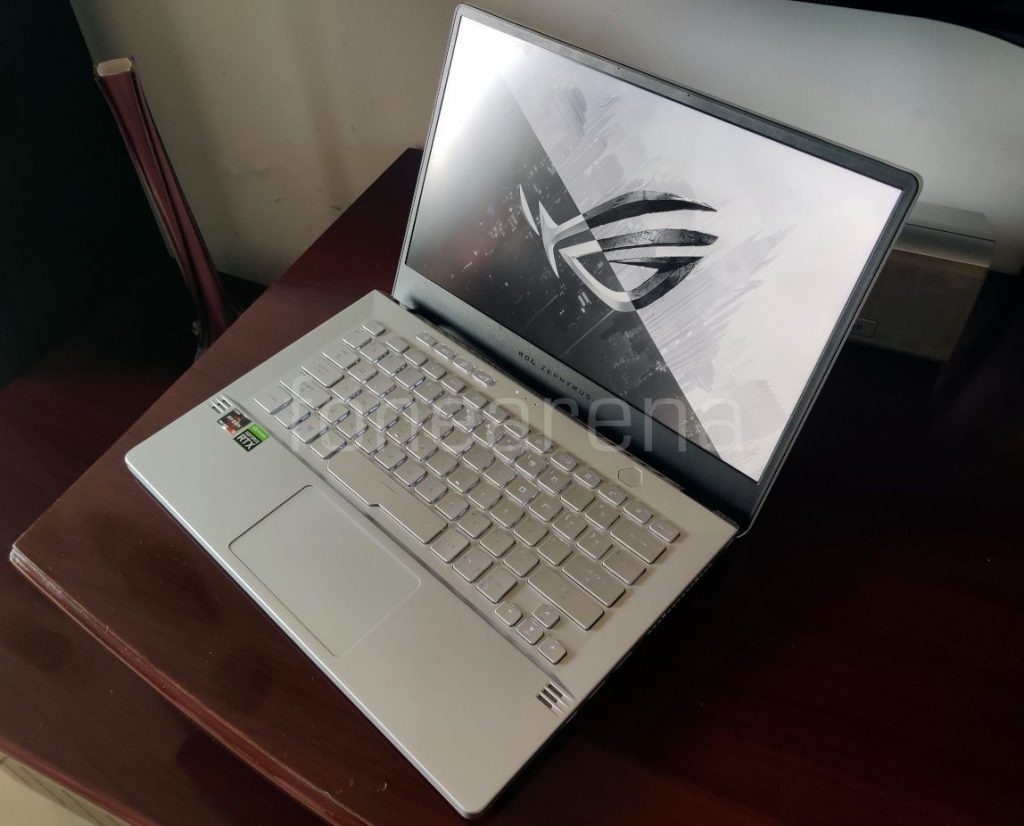 You have two displays to configure with the Zephyrus G14 — the primary display on the inside of the lid and the AniMe Matrix on the top of the lid. Lets start with primary display. ASUS offers two options — a Full HD (1920×1080 resolution) IPS-level panel with a refresh rate up to 120Hz and support for AMD FreeSync, and WQHD (2560×1440 resolution) IPS-level panel with a refresh rate of 60Hz, also with support for AMD FreeSync.
The two options can be explained this way — you can choose either a high refresh 1080p screen suitable for high FPS games or choose a 1440p screen 60Hz screen that is suitable for sight-seeing games in high graphics quality and for content creation. In this review, we'll be checking out the latter, that is, the 14-inch WQHD 60Hz display.
The screen on the G14 is excellent with great contrast, good brightness and the IPS technology means it has wide viewing angles too. 1440p is plenty resolution for a 14-inch panel, meaning text and UI elements are perfectly sharp. Playing RPG and casual games at high/ultra quality was a really good experience. E-sports titles and other high frame-rate titles were great too, just do not expect to get the best possible experience since the display only refreshes at 60Hz. Bezels are minimal on top and side edges, and there is no webcam.
I was impressed by the colour accuracy of the screen too, which is not  surprising considering that each Zephyrus G14 is factory calibrated and Pantone Validated with 100% coverage of the sRGB colour space. This makes the screen perfect for colour critical work like editing photos, videos, and it makes  games look beautiful. ASUS offers the factory calibration Pantone validation in every model of the G14, which is especially impressive for the entry variant. Not many gaming laptops offer colour accurate screens, making the display a huge overall positive for the G14.
The second display — the AniMe Matrix, is an option that, simply put, increases the uniqueness of the laptop. Engineered into the laptop's lid are 1,215 mini LEDs (with 256 levels of brightness), creating a display that looks like those you would find on a stock market digital billboard.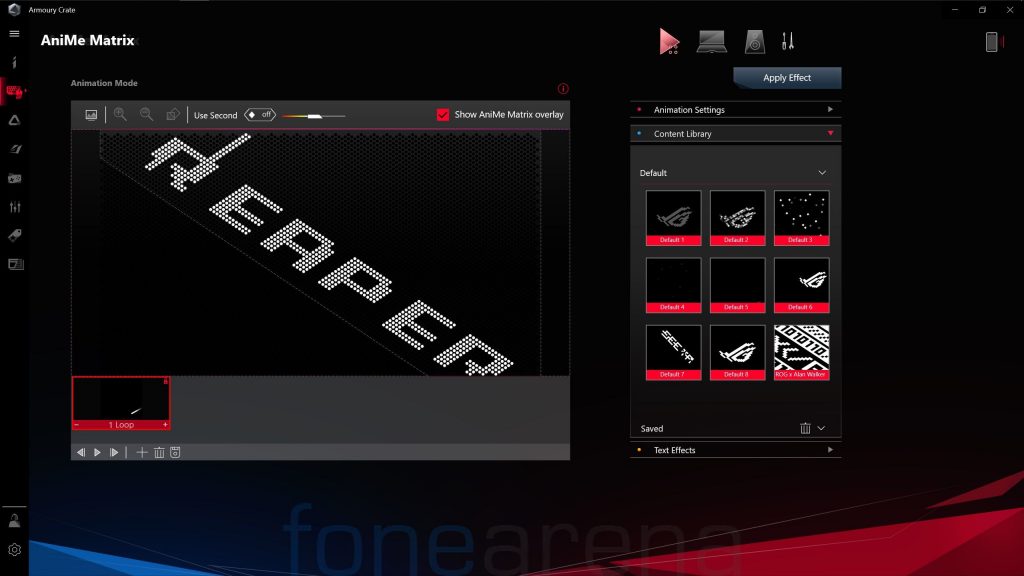 What you display can be completely customized in the ASUS Armoury Crate Software, with the ability to have rolling text, graphics, images and other metrics like the battery level and date. The software is not as intuitive as I would like it to be, however you do get a lot of options and you are likely to set it up once and forget about it, so it is alright.
Typically, gaming laptops do not have great sound, but that is not the case with the Zephyrus G14. The laptop features a quad-speaker setup – two tweeters on the keyboard deck that fire high-frequency music towards the user and two subwoofer units that bounce bass off the table. The quality of music produced was quite good and I would happily give it a solid B+. It is not as good as Macbooks, however comparing against regular gaming laptops, the G14 definitely comes out on top in the speaker department.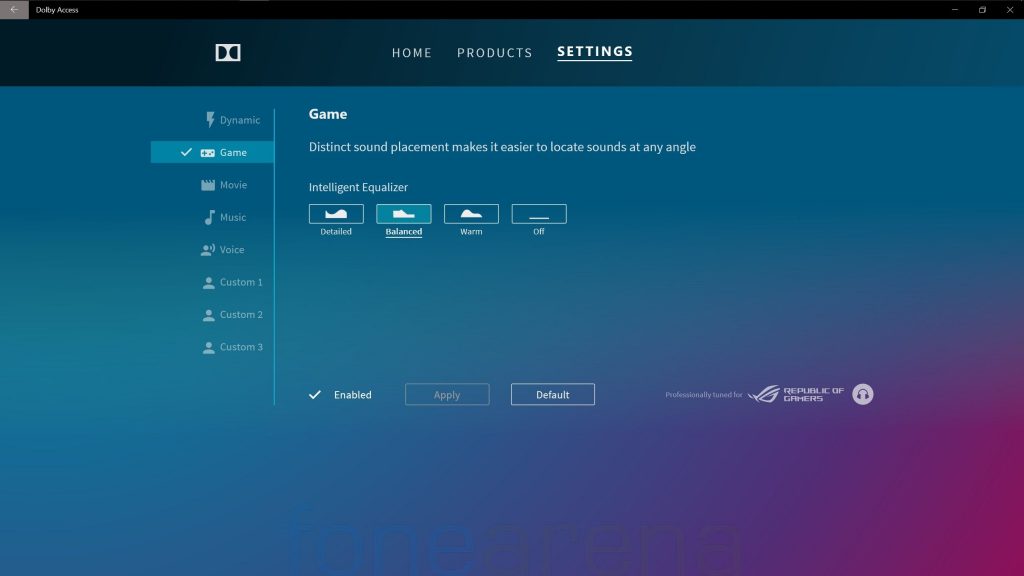 The G14 also comes with preinstalled with Dolby Access, which is an app that can help boost the sound quality and spatial awareness for the speakers and headphones. There are various modes supported and it can also be turned off if you wish to do so.
Performance and thermals
The Zephyrus G14 can be configured from an AMD Ryzen 5 4600HS processor to an AMD Ryzen 9 4900HS processor for the CPU and NVIDIA GeForce GTX 1650 to an NVIDIA GeForce RTX 2060 Max-Q for the GPU. For this review, I'll be checking out the absolute top-end model with the Ryzen 9 4900HS and the GeForce RTX 2060 Max-Q  GPU, which is perfect since I was really curious to see the thermal performance of this machine.
The AMD Ryzen 9 4900HS Processor is an 8 core (16 thread) Zen 2 based CPU that has a base frequency of 3.3Ghz and boost frequency of up to 4.4Ghz. This is a powerful chip, with a lot of cores and threads and really good IPC (Instructions per clock) performance thanks to the Zen 2 architecture. What this meant in real world performance is that the G14 is extremely fast. The capabilities of this machine are immense.
Multi-tasking was a breeze and I witnessed absolutely no hiccups during my entire review. Gaming on this laptop was impressive, thanks to the single-threaded improvements of Zen 2 and having 8 cores/16 threads meant the laptop could absolutely chew through multi-threaded tasks with ease. Photoshop, Lightroom, Blender, Premiere Pro, anything, the Ryzen 9 CPU can handle it.
What about gaming? It is a ROG laptop after all. Putting it simply, the gaming experience was amazing. We all know about the performance we can expect from NVIDIA's GeForce RTX 2060, so I am not going to spend too much time on it. ASUS has chosen the 65W variant and the GPU performs well in games and in GPU accelerated tasks. Check out some benchmarks below:
With a laptop that has crazy powerful internals in a thin and light chassis, you would not expect great thermal performance. However, I am pleasantly once again impressed with the G14. Under extended synthetic load, the CPU and GPU do not exactly stay cool, at around 94°C and 80°C respectively but at no point did the laptop thermally throttle. During gaming, I observed absolutely no slowdowns whatsoever, with CPU and GPU temperatures around 82°C and 75°C respectively. Heat was exhausted out the back and sides, ensuring that my hands never felt uncomfortable either.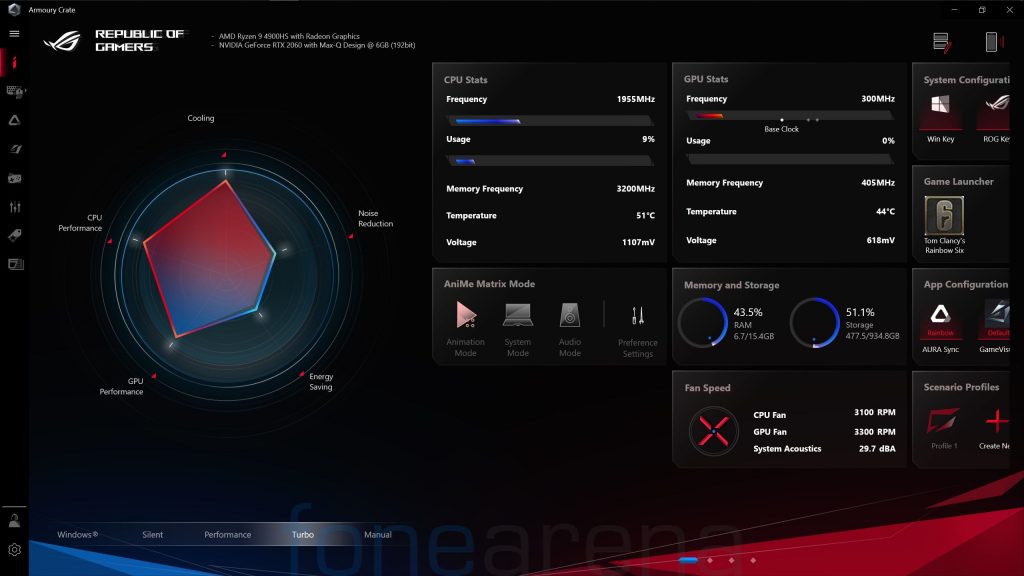 In the Armoury Crate software, you have the option to switch between a few different fan profiles. We have "Windows" mode, where Windows will control the fans speed, a "Silent" mode where the laptop will offer good performance with mostly quiet fan noise, a "Performance" mode with better performance and slightly increased fan noise, and finally "Turbo" mode where the limits are completely removed for maximum performance and the highest fan noise. ASUS also gives a manual fan control option to users who want to fine-tune fan control.
I kept the laptop constantly in Turbo mode because I liked have maximum performance always and the fan noise never did really bother me, even during long gaming sessions. During regular use, the fans would not kick in too hard, so I found Turbo mode perfect for me.
I think ASUS made a great decision going with AMD this year, seeing how well this machine performs. I fully expect other manufacturers to follow suit and offer AMD options next year, considering the success that ASUS had with this laptop.
Keyboard and trackpad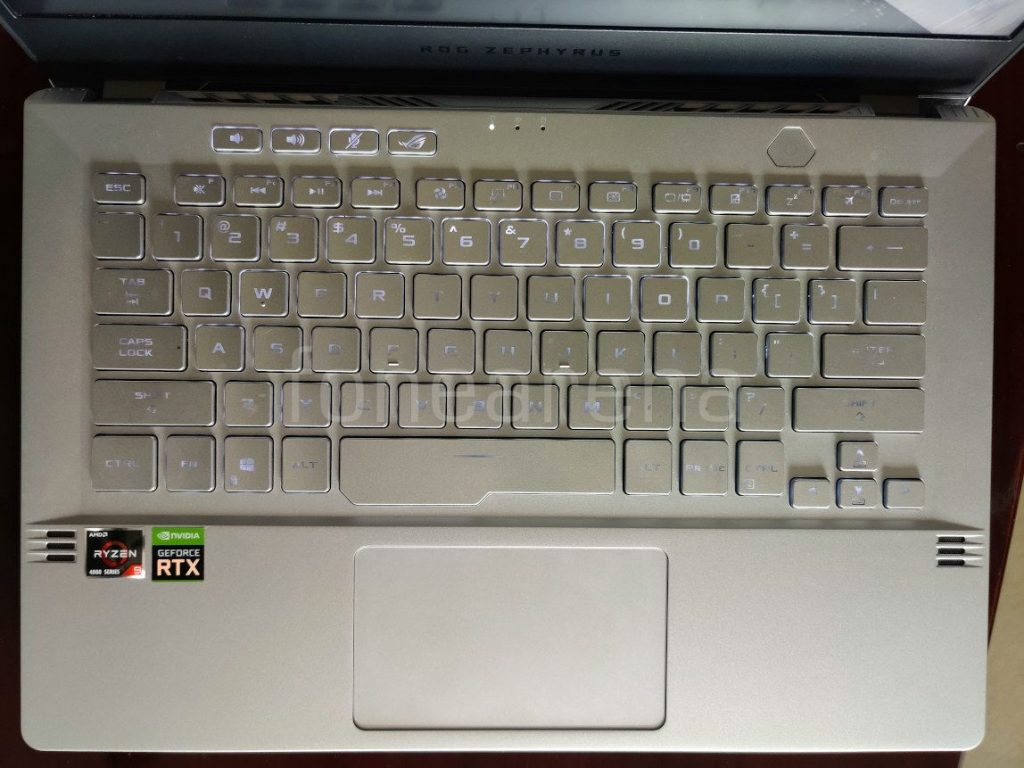 This is another area that ASUS that has executed properly in the G14. When typing on the G14's keyboard, it felt like you needed to be deliberate with every key press. This was primarily due to the firm amount of pressure required for every key press, in combination with the fact that each key has 1.7mm travel distance. The chiclet-styled keys themselves had great stabilization and I never had an issue with accidental key presses, thanks to the aforementioned reasons. The layout of the keyboard is standard with a perfect amount of spacing between keys. Overall, I really enjoyed the G14's keyboard for both gaming and productivity.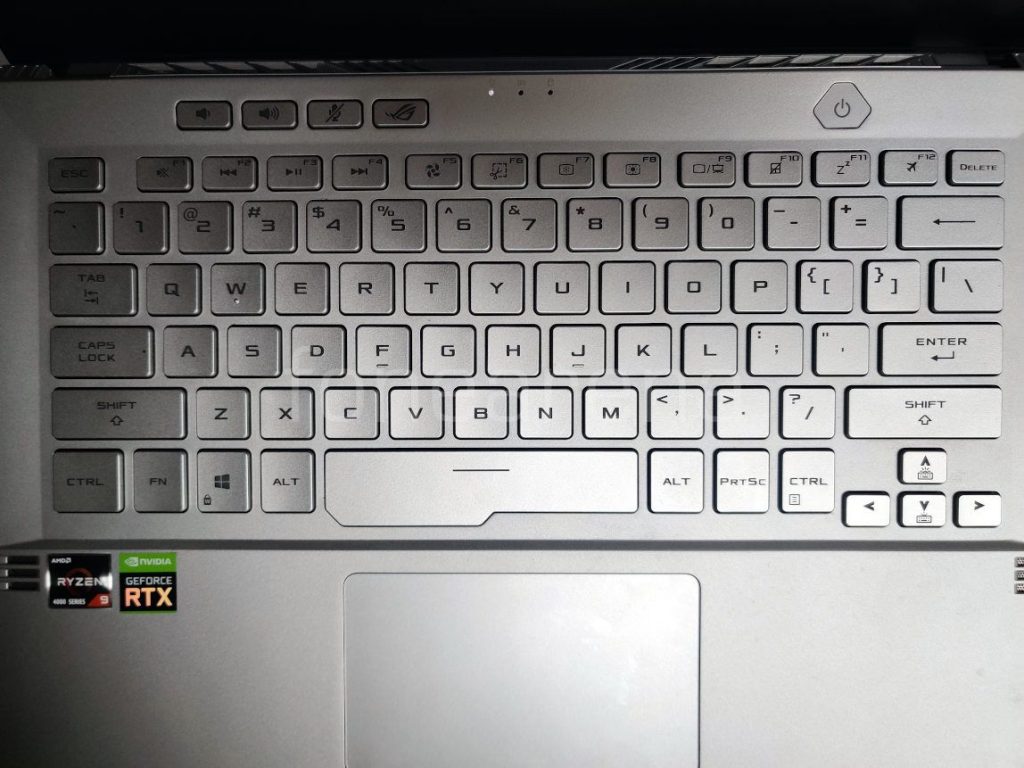 There are 4 macro keys in the top left corner — volume up, volume down, microphone mute toggle and a shortcut to the Armoury Crate software. The top right corner is where you can find the Power button which has an integrated fingerprint scanner, enabling Windows Hello login. A cool feature with it is how the scanner will securely cache your fingerprint when you turn on the laptop and then automatically feed it to Windows at the login screen so that you are signed in instantly. Neat.
The keyboard is white back-lit, which goes perfectly with the design aesthetics of the laptop and it has 3 levels of brightness control. However, an issue I noticed with the back-lighting in the keyboard was the uneven way the white light shined through some of the key-caps. Some keys looked much brighter than others and some keys had looked unevenly lit within the key itself. Fortunately, it is only a minor issue.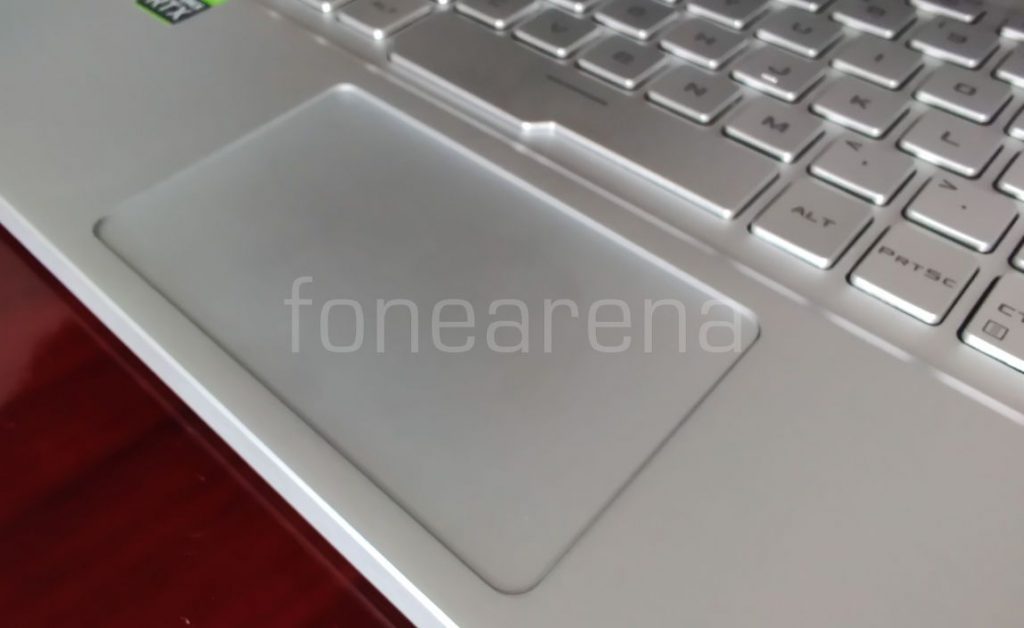 The trackpad on the G14 is glass topped and it uses Windows Precision drivers, which resulted in a good experience overall. Tracking was accurate and the clicking mechanism was some of the best I have experienced among Windows laptops. It does not quite compare to the trackpad found on the Macbook, however I would still give this trackpad a solid 'A' grade, especially for Windows gaming laptops.
Ports and Connectivity
There is a healthy selection of ports on the Zephyrus G14 — on the left side there is a barrel-shaped power port, an HDMI 2.0b port, a USB Gen 3.2 Type-C port with DisplayPort 1.4 and USB PD integrated and a 3.5mm combined audio jack. The Type-C port on the right side supports up to 65W charging, which won't be enough to game with, but still helpful in a pinch.
On the right side, there is another USB Gen 3.2 Type-C port, two USB Gen 3.2 Type-A ports and a Kensington lock. I wish the USB Type-A ports were found on the left side instead of the right side, so that a wired mouse's cable will not interfere. There isn't a SD card slot, which can be a bit of a hassle for creators, but a simple dongle can fix that.
The laptop features the Intel Wi-Fi 6 AX200 network card, which makes it Wi-Fi 6 compatible and capable of high speed Wi-Fi access. The card performed perfectly fine, and I faced absolutely no dropouts during my testing. Bluetooth 5.0 is also present, with all its benefits such as a faster, stronger connection and simultaneous multi-device support.
Battery
Battery life is quite good for a laptop that has an 8-core CPU and a dedicated 65W GPU. I was getting about 6 hours of battery life with light usage and the screen at 75% brightness, which is impressive for a gaming laptop. In medium usage scenarios where the CPU would boost up more often, you will notice a quick drop in the battery life, which is completely understandable. It is possible to go past 6 hours with the screen brightness turned down and turning on Power Saving mode in Windows, but I cannot imagine many users who would want to do that.
The 76WHr cell inside charges up from 0 to 100% in about an hour and a half with the 180W power brick and the laptop also supports Type-C PD 3.0 up to 65W.
Conclusion
By now, it must be pretty clear that I love what ASUS has produced with the Zephyrus G14. The laptop is sleek, beautiful and is an absolute beast in performance. The AMD Ryzen 4000 series CPUs are excellent and of course, we cannot disregard the NVIDIA GPU either. It is my strong opinion that ASUS has made its best gaming laptop to date and I expect other manufacturers to pick up a thing or two from this laptop.
So what configuration to purchase? Across the board, AMD's Ryzen 4000 series mobile processors have proved to be excellent performers, so I expect even the base-model, with the Ryzen 5 4600HS processor and the NVIDIA GeForce GTX 1650 GPU, to be a compelling offer. Remember, you are still getting a beautiful laptop with a strong chassis and keyboard, a 512GB NVMe SSD and a 120Hz 1080p Pantone validated display. These are unheard of at price of Rs. 80,990, making the laptop ideal for gamers and content creators. Each upgrade from here on is well worth the price bump, so you can purchase without feeling like you are overspending.
Regarding the AniMe Matrix, well, it is a purely aesthetic option at the end of the day. The feature certainly adds a unique factor to the laptop and ASUS has made sure you can customize it to your liking. If your budget allows for it, I say go for it. I like it a lot, and I am interested to see how ASUS can improve on it for a version 2.
Availability
Priced at an MOP starting from Rs. 80,990 for the base model without AniMe Matrix and Rs. 98,990 for the models with AniMe Matrix, select models are available on Amazon, but other models should be available through offline stores.
Pros
Beautiful design and solid chassis
Pantone validated display options for both gamers and creators
Powerful performance and good thermals
Great keyboard and typing experience.
Good sounding speakers
Cons
Uneven keyboard lighting
No webcam