MediaTek Pentonic 700 chipset for 4K TVs with 120Hz MEMC, Dolby Vision IQ, Wi-Fi 7 announced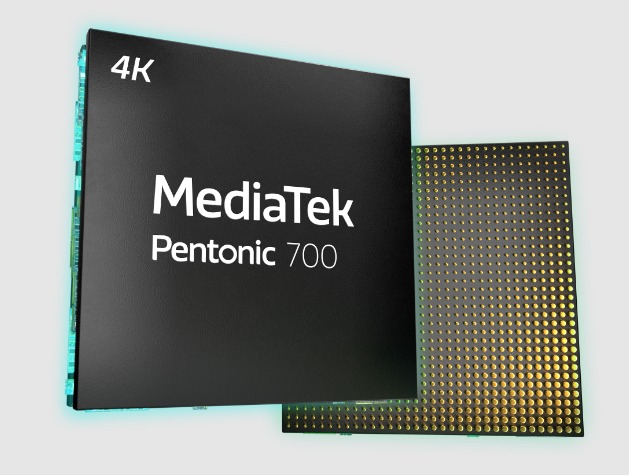 The Pentonic 700 chipset for premium 120Hz 4K televisions is the latest addition to MediaTek's Pentonic smart TV SoC series. This follows the release of Pentonic 2000, the world's first commercial TV chip made on TSMC's N7 (7nm-class) process for 8K televisions.
The Pentonic 700 includes AI-powered picture quality enhancements, Dolby Vision IQ with Precision Detail support, integrated 4K120 MEMC and TCON, gaming optimizations, and MediaTek's Filogic Wi-Fi 6, Wi-Fi 6E, or Wi-Fi 7 wireless connectivity solutions, among other features.
The Pentonic 700 is made for smart TVs with a refresh rate of 120Hz, but the chipset can also handle refresh rates of up to 144Hz. The HDMI 2.1 Auto Low Latency Mode (ALLM), which cuts down on display lag, and the Dolby Atmos technology, which creates a more immersive sound experience, are also improvements to gameplay.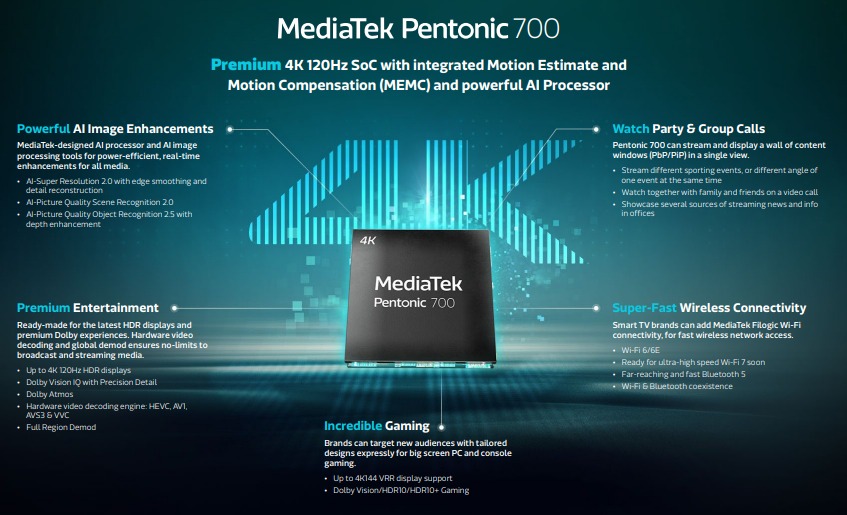 For advanced edge smoothing and detail reconstruction, the Pentonic 700's integrated AI processing unit (APU) supports MediaTek's AI-Super Resolution, AI-Picture Quality (AI-PQ), and AI-PQ Object Recognition technologies. Dolby Vision IQ with Precision Detail helps make images that are clear and sharp by making the difference between light and dark areas stand out more.
This picture-by-Picture (PBP) and Picture-in-Picture (PIP) with Picture Quality (PQ) enhancement of this chip enables users to watch multiple live sporting events or video chat with friends and family while watching content on their home devices simultaneously.
MediaTek Pentonic 700 Key Highlights:
Resolution support up to 4K at 120Hz and capable of VRR up to 4K at 144Hz for gaming applications.
Dolby Vision IQ with Precision Detail for improved detail with added texture and depth.
HDR10+ Adaptive technology to offer optimal viewing experiences based on a room's lighting conditions.
MediaTek's AI-PQ Scene Recognition 2.0 to automatically optimize picture quality settings.
MediaTek's AI-PQ Object Recognition 2.5 to enhance the depth of view by applying different sharpness, contrast and color between the foreground and background.
Built-in hardware video decoding engine supporting HEVC, AV1 and AVS3 standards, along with the latest VVC (H.266) standard, for broadcasters and streaming providers' latest requirements.
MediaTek's AI-Super Resolution 2.0 for edge smoothing and detail reconstruction.
Support for the latest voice assistant features and smart home device management.
Regarding the launch, Alex Chen, General Manager of the TV Business Unit at MediaTek said,
MediaTek's Pentonic series brings more intelligence to smart TVs with a host of AI-powered picture quality enhancements. Smart TV brands can count on Pentonic 700 to deliver incredible experiences whether consumers are watching videos or sports, gaming, or using their TV as a control center for their other smart devices.