Having a reliable and fast home Wi-Fi connection is crucial with how much the average person uses the internet these days, but it can be hard to know which type of products to buy to successfully overhaul your Wi-Fi. There are many good options out there, but ultimately, we think it doesn't get better than eero. With their excellent performance, awesome features, and competitive prices, eero products deliver a supreme Wi-Fi experience. Here are our favorite options from eero. 
The eero Pro 6
The eero Pro 6 is eero's flagship mesh router, and when you look at how much of a beast it is in terms of performance, it's easy to see why. With speeds up to a gigabit, full Wi-Fi 6 networking for top stability and security, and a tri-band design that can handle over 75 simultaneously connected devices, the eero Pro 6 doesn't hold back on any front. 
In terms of range, the router can provide its robust Wi-Fi to over 2,000 square feet, making it a superb option if you have a larger home. The router's range can also be extended by other eero Wi-Fi 6 devices. 
Finally, it's important to note that the eero Pro 6 features a built-in Zigbee smart home hub that you can connect compatible devices to. This means that you can control certain lights, locks, and more with a voice control system like Alexa by going with the eero Pro 6.
A single eero Pro 6 is available for $229, while a three-pack costs $599.
The eero 6
The eero 6 is eero's more affordable Wi-Fi 6 option. With 900 megabits per second of speed, a dual-band design, and a range of 1,500 square feet, it's not quite as powerful as the eero Pro 6 but it nevertheless still performs excellently. It's a great option if you have a small-to-medium sized home, and since it's mesh, it can hook into other eero Wi-Fi 6 routers or extenders. 
Like the eero Pro 6, the eero 6 comes with a built-in smart hub that can be used to control smart devices with Alexa. 
The eero 6 is available for $129. A bundle of three is priced at $279, which is quite an awesome deal.
  The eero 6 Extender
This nifty extender device extends the range of an existing eero router by a full 1,500 square feet with speeds of 500 megabits per second. It's an awesome and affordable way to bring more Wi-Fi coverage to your home without buying an additional router, though notably the speed of the extended signal is lower than what would be provided by another router. Therefore, the eero 6 Extender is best used in situations where having top speeds in the affected areas isn't crucial or when you need to prioritize saving money over achieving the best speeds.
The eero 6 Extender is available for $89.
The eero 
If having the best speeds isn't a concern and you'd rather save as much money as you can, look no further than the standard eero mesh router. It's capable of providing a Wi-Fi 5 network speed of 350 megabits per second and covering homes sized 1,500 square feet or smaller. It doesn't come with a built-in smart hub, but nevertheless it's still an awesome option for people who just want a basic and reliable Wi-Fi connection.
You can get a single eero router for $67, while a three-pack costs $169.
If we had to choose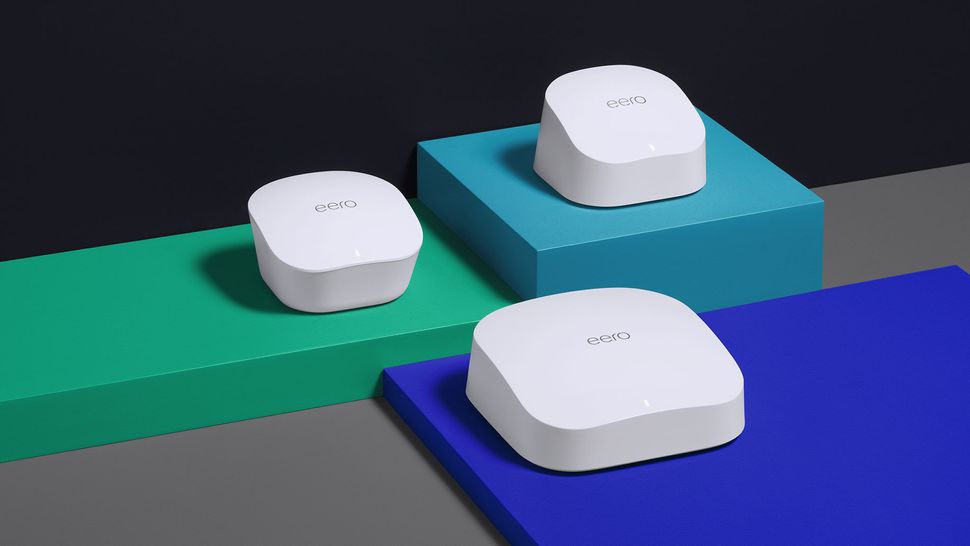 All the eero devices on this list are fantastic, but if we had to pick just one, it would be the eero Pro 6. Featuring top performance and tons of range for a good price, it's the best of the best when it comes to Wi-Fi 6 mesh routers. It pays to have the best Wi-Fi out there these days, so we think the investment is worth it. The built-in smart hub feature is a nice bonus, too.
If you're okay with compromising a little on performance for a lower price, the standard eero 6 is also a superb choice. It may not be as capable as the eero Pro 6, but it comes close, and it also has all of the same features that the Pro 6 does. It's the perfect choice for people who want premium Wi-Fi at a more affordable cost.
The eero 6 Extender is a great peripheral device that will go well with both the eero 6 and the eero Pro 6 if you need to extend your Wi-Fi range in a cost-effective manner. The speeds aren't as fast as what you'd get with additional routers, but they're still great, and the price of the extender is much lower than buying another router. 
Finally, we recommend the standard eero if all you need is a basic, reliable Wi-Fi connection that's on the budget-friendly side. Wi-Fi 5 may be less advanced than Wi-Fi 6 is, but it's far from obsolete and is more than sufficient when it comes to having a good Wi-Fi experience.