Dell XPS 13 9300 (2020) Review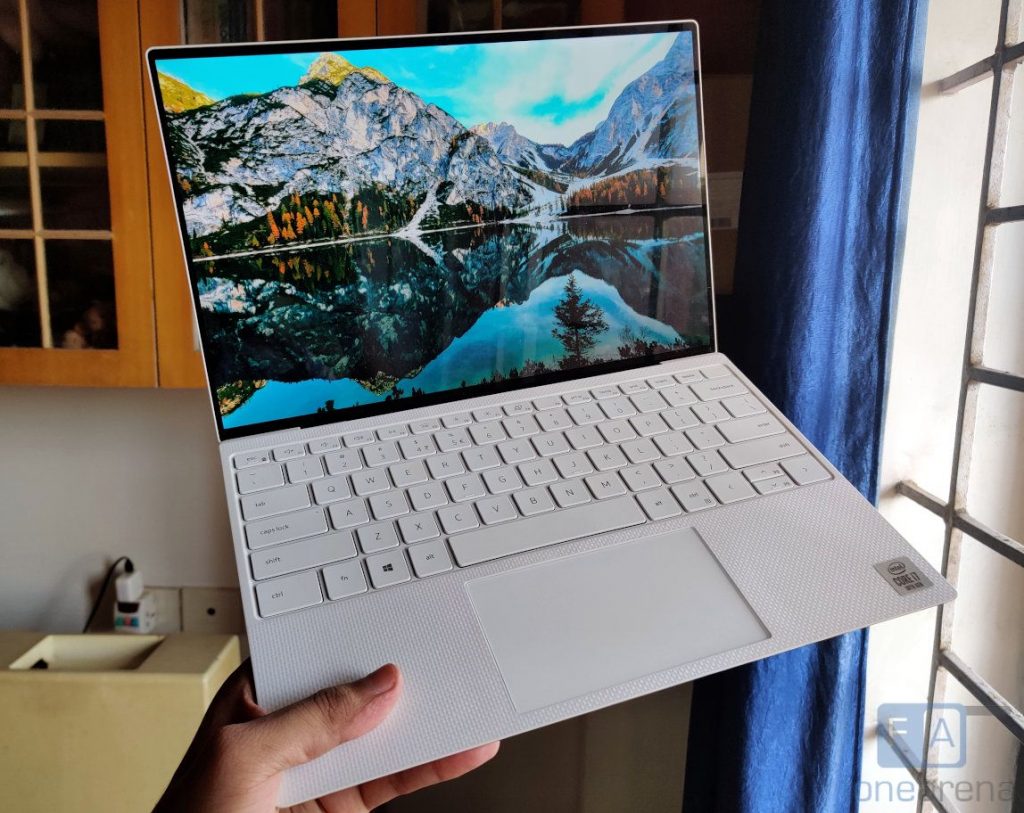 When it comes to consumer Windows laptops, the Dell XPS line of laptops has almost always delivered some of the best experiences possible. Dell has steadily improved the XPS 13, adding more powerful internals, better displays and smaller bezels. The newest XPS 13 9300 (2020) features Intel's 10th Gen CPUs with Intel Iris Plus graphics for improved performance and up to a 4K touch display with tiny bezels all around. All of it, including the premium build quality comes at a hefty price, but can Dell justify it? Read on in my review of the XPS 13 9300.
Design, Build Quality and Display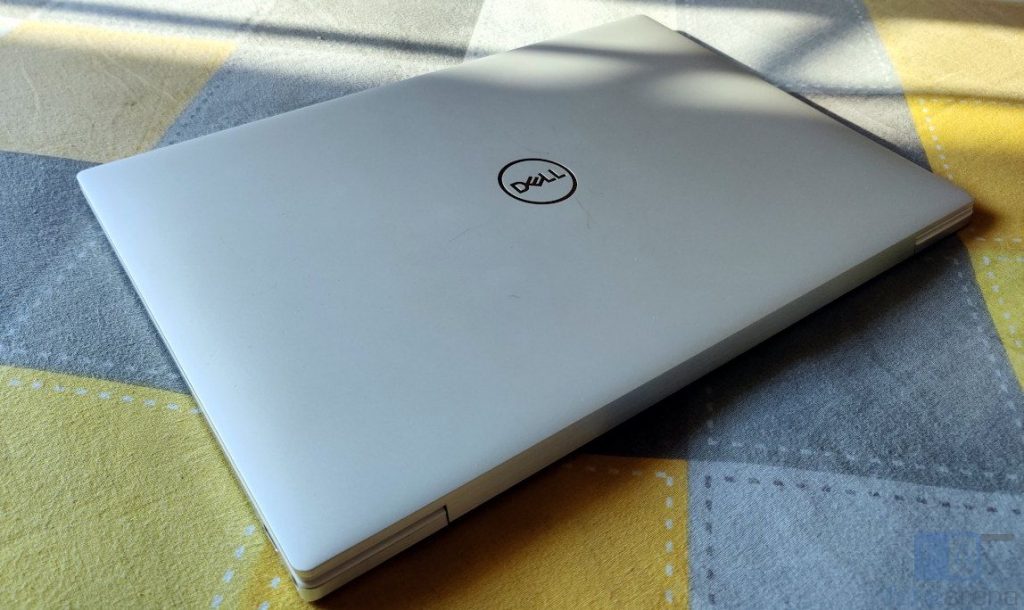 Personally, I have always been of the opinion that the Dell XPS laptops are the Macbook equivalent among Windows laptops. Built out of a single block of CNC machined Aluminium and diamond cut edges, the XPS 13 looks simply elegant and feels highly premium to hold. The palm rest areas are made out of carbon fiber and woven glass fiber, which feel great to type on. The metal lends a lot of strength and rigidity to the chassis, resulting in little to no deck flex or lid flex. The hinge has a perfect amount of tension, making it possible to lift the lid with just one hand.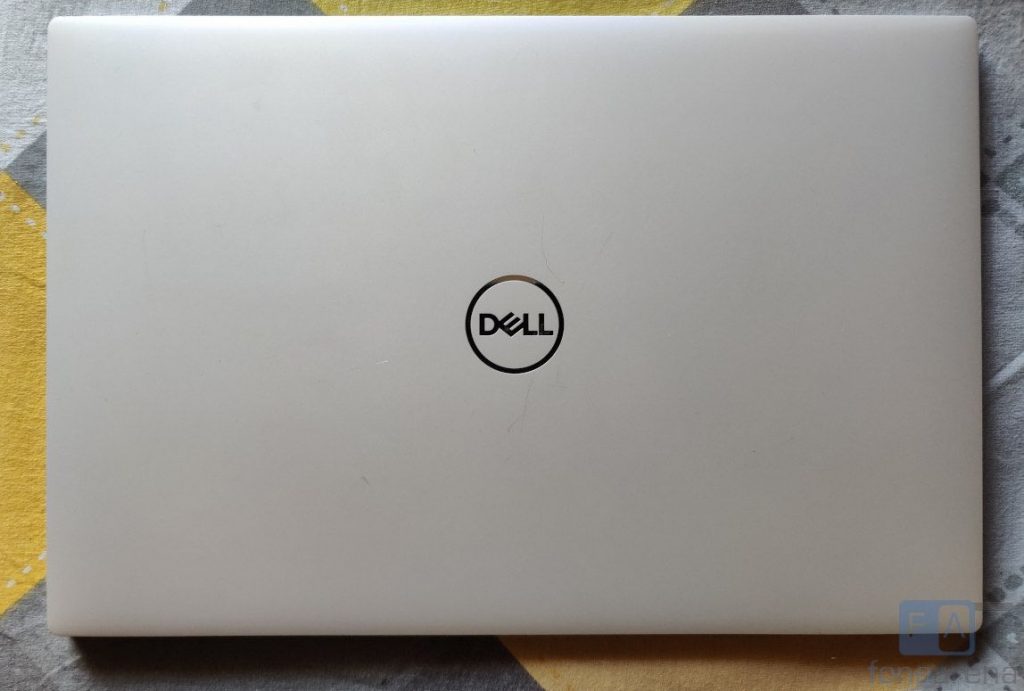 I have to point out, the entire chassis does not have paint to ensure it looks good for a long time, however the lid did pick scratches quite easily, so if you do purchase this laptop, be careful when handling the laptop. In the center of the lid is a single Dell logo and an XPS text can be found on the bottom of the laptop. It has two USB-C ports, one on each side, along with a 3.5mm jack and a microSD slot.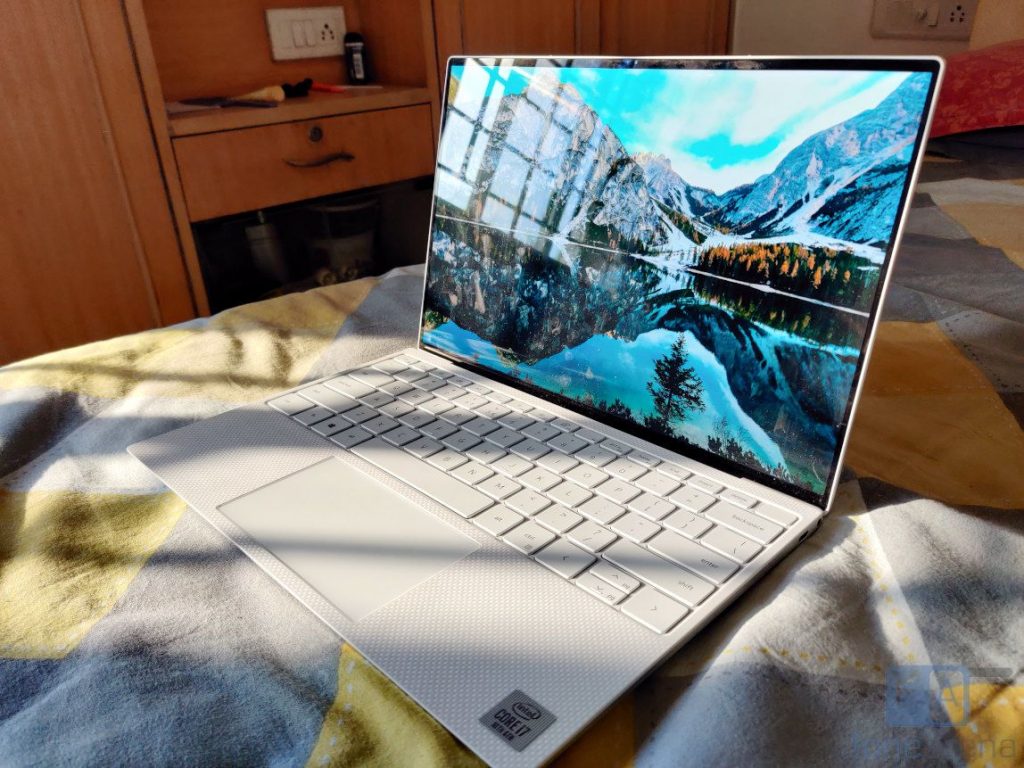 The most striking part of the laptop is without a doubt the display and the bezels, or should I say lack thereof. Over the years Dell has gradually been shrinking the display on the XPS line up, and for the 2020 model, Dell managed to shrink the bezels on all 4 sides. They managed this while keeping the webcam and the Windows Hello IR sensors in the top bezel. Thank you, Dell, for getting rid of the horrible webcam placement found on older XPS laptops that looked up the nose.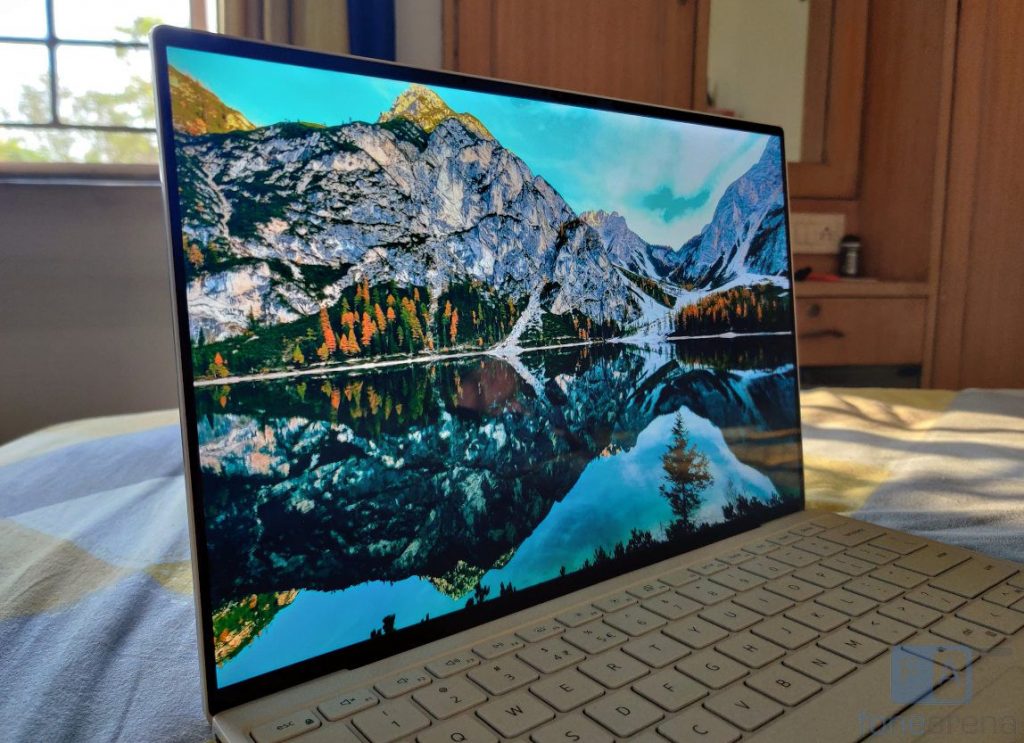 Coming to the display itself, our XPS 13 is configured with a stunning 16:10 4K touch display that has a resolution of 3840×2400. It can get really bright at up to 500 nits, supports HDR, and it has near perfect colour accuracy with a 100% sRGB and 90% DCI P3 color gamut. This is crucial for content creators who need the colour accuracy for photo or video editing. The 16:10 aspect ratio really helps when viewing/editing documents and consuming media is an absolute delight. Being touch enabled is an added bonus, and it is protected by Corning's Gorilla Glass 6, so you don't have to worry about scratches either.
While all this is positive, I can't help but feel that having a 4k display on a 13-inch display is overkill. At this size, it is nearly impossible to distinguish individual pixels. I would much rather have a full HD display and get the extra battery life. However, it is nice to know Dell is giving options to the consumer.
Performance and benchmarks
The performance of the Dell XPS 13 is a bit of a mixed bag. It is powered by a 10th generation Intel Core i7-1065G7 processor, along with 16GB of 3733MHz LPDDR4x RAM and a 1TB M.2 PCIe NVMe SSD. For light tasks and short bursts such as browsing, text editing or streaming, the XPS 13 can handle it without an issue, capable of boosting momentarily to 3.9GHz. However, for heavier, and longer loads such as rendering, the thermal limitations of the thin and light design really start to show. When running Cinebench, the clock speed drops to 2GHz, which is still above base clock, but not by much.
You also have to keep the XPS 13 on a table as the bottom panel of the laptop gets quite hot, making it feel uncomfortable on your lap really fast. The laptop does have two small fans, and a single wide heat pipe that takes the heat away from the CPU. The fans do kick-in quite often during regular use, and they are certainly audible, but never annoyingly loud.
Here are some benchmarks for the XPS 13:
Keyboard and Trackpad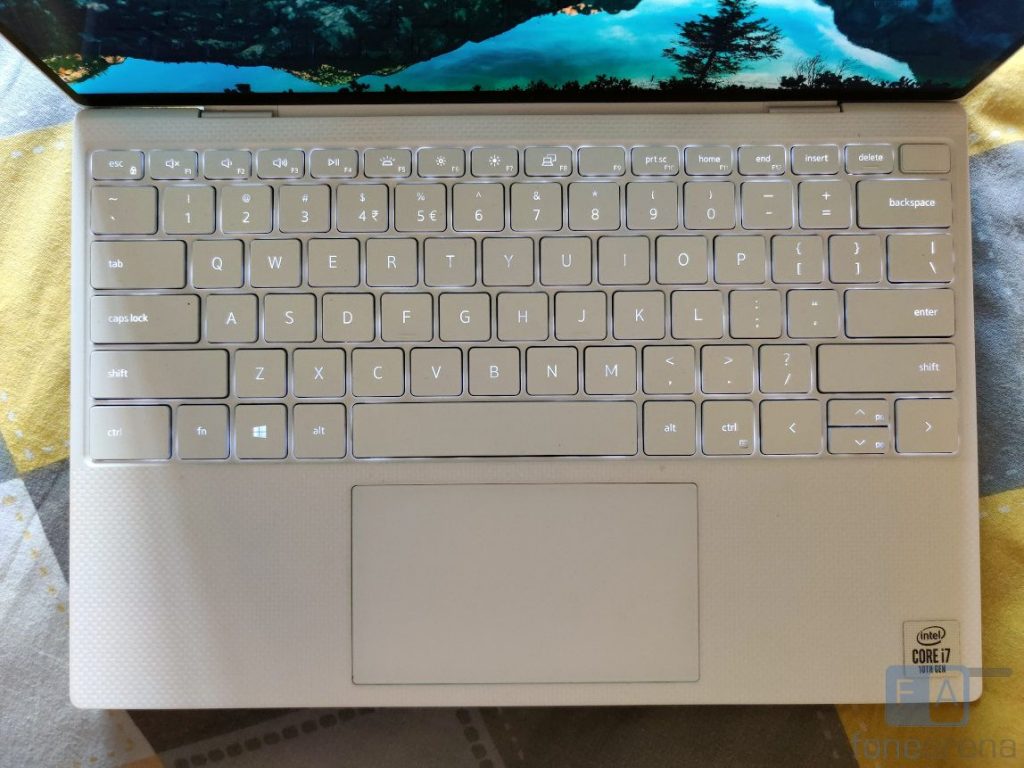 To put it simply, I found the keyboard on the Dell XPS 13 9300 to be one of the best I have used on any laptop. It has a good layout with a good amount of spacing between keys, and they have a good amount of travel with just the right amount of actuation force required. Key stabilization is excellent and the backlight shows through the keys perfectly. I quickly got up to speed when typing on this keyboard and I thoroughly enjoyed it. XPS keyboards are known to be excellent and the XPS 13 certainly does not disappoint.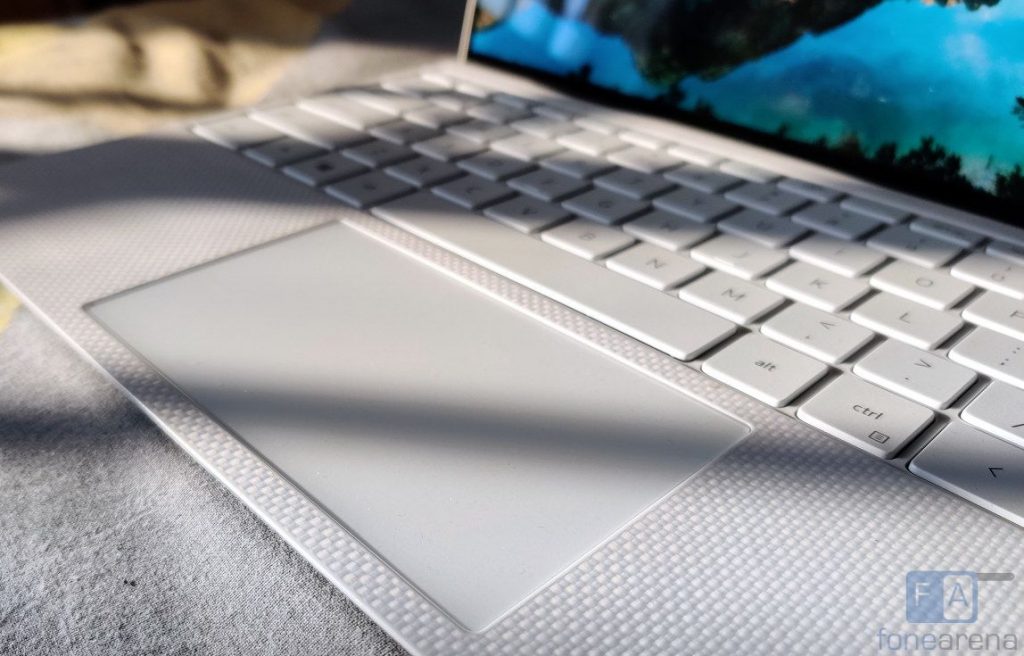 The trackpad also gets similar praise. It is decently sized, has a glass top, and it uses Windows Precision drivers. The tracking is precise, with good mouse acceleration and overall, the trackpad meets all my expectations for an XPS laptop.
Ports, Webcam and Biometrics
There are a total of 4 ports for the XPS 13 9300 – two USB Type-C Thunderbolt 3 ports on either side, which are both capable of DisplayPort and Power delivery. Along with this, there is a 3.5mm combo audio jack on the right side and a MicroSD card slot on the left side. It is unfortunate that there are no USB-Type A or HDMI ports on this laptop, but I understand that it is a trade-off for being a modern ultra-thin laptop. To Dell's credit, they do include a USB-C to USB-A adaptor in the box.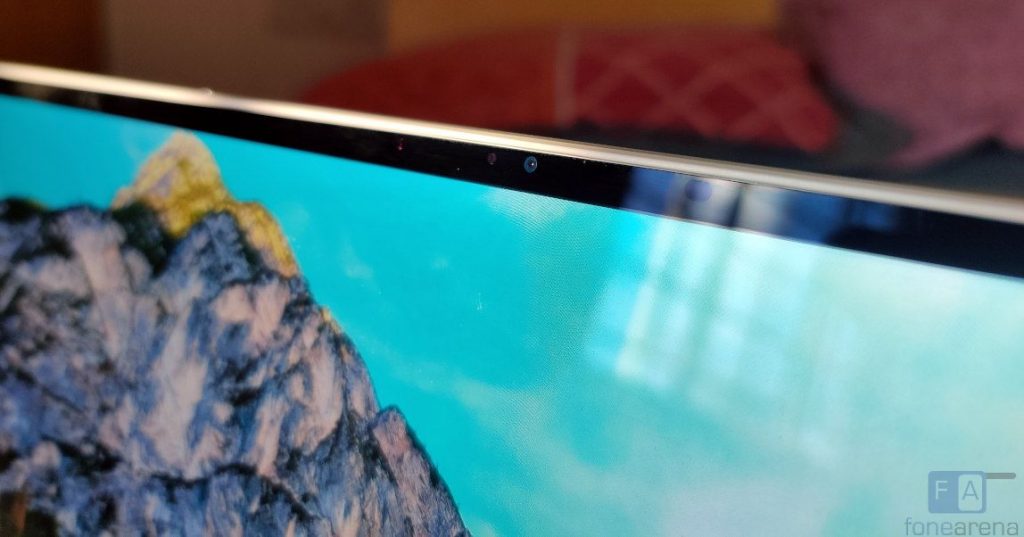 As we mentioned earlier, the 1080p webcam can be found on the top bezel and the video quality is acceptable. On either side of the webcam are IR sensors for Windows Hello facial recognition. Once set up, you can quickly sign in to the laptop as soon as the lid opens up, and if you have a mask on, the laptop has a fingerprint sensor built into the power button as an alternate biometric authentication.
Battery
Inside the XPS 13, there is a 52Wh battery that Dell claims will let you stream Netflix for about 8 and a half hours. During my review, I got about 5 hours of battery life when using it regularly with the brightness set to 80%. During this period, I used a lot of Chrome, a bit of streaming on Netflix and Amazon Prime, along with some Microsoft Word. 5 hours is not a lot of time, but when you factor in the 4K screen and a Core i7 CPU, it isn't too bad. If you do require an all-day battery, the 1080p screen option is sure to last you longer.
It charges via either of the USB-C ports and Dell includes a 45W charger in the box. Charging from 0 to 100% took about an hour and a half.
Conclusion
When you look at the whole package, the XPS 13 is a premium laptop that offers good performance and stunning display. The build quality is basically the best there is and the design is beautiful. For those who want a highly portable laptop for work, the XPS 13 is a great option. Among the different configurations, I would recommend getting the Intel Core-i5 option along with the 1080p screen. It would save a lot of battery life while still offering solid performance. The 4K display option is an overkill for a 13-inch form factor laptop and will only make sense for photo-editing and video editing.
For this premium experience, you are certainly paying a higher price. Our particular model is priced at Rs. 2,29,400 on Amazon.in and that is quite difficult to recommend. However, the Core-i5 model is a lot more affordable, and it is a more sensible option to purchase.
Pros
Premium build quality and design
Brilliant 16:10 display
Fast storage
Great keyboard and trackpad
USB-C charging
Cons
Disappointing thermal performance
No USB-A port
Average battery life on 4K display model
No expandable memory