The Legend of Zelda: Breath of the Wild 2 has been confirmed and, even though very little is known about it, it's undoubtedly one of the most highly-anticipated games coming to Nintendo Switch.
Since the game's announcement during Nintendo's E3 2019 presentation, details have remained thin on the ground but now that we're into 2021, the year in which the franchise celebrates its 35th anniversary, we're hoping that Nintendo will take the opportunity to make some timely announcements. Thanks to a February Nintendo Direct, we already know that some news will come later in the year, unfortunately we're still waiting to find out exactly when. 
Given Nintendo is a publisher known for keeping things firmly under wraps until they're absolutely ready, it's perhaps not all that surprising that it's keeping quiet around Breath of the Wild 2. It is, after all, the sequel to Breath of the Wild, which is still hailed as one of the best Switch games you can buy, meaning expectations are extremely high. 
Unfortunately, the number of questions we have is even higher. When will it release? What will its story involve? Is that rumored Nintendo Switch 2 going to play a part? Solid information on Breath of the Wild 2 is hard to come by at the moment but in the meantime, we've gathered up everything we know and suspect so far about The Legend of Zelda: Breath of the Wild 2 for your perusal.  
Cut to the chase
What is it? Breath of the Wild 2 is the upcoming sequel to 2017's open-world Zelda game
What can I play it on? Nintendo Switch
When can I play it? TBA but we expect it to arrive towards the end of 2021 
Breath of the Wild 2 release date
Nintendo hasn't shared much information on Breath of the Wild 2 other than an announcement trailer and a few sparse comments—which we'll run through below. One thing to hold on to is that the trailer closed off with a line stating the game is "in development". That doesn't guarantee the game is coming anytime soon but it is coming. 
Last year, leaker Sabi (via wccftech) suggested that Breath of the Wild 2 is due for release in 2020, but warned that, "Zelda release dates are historically delayed, internally or publicly".
And it seems they were right, as the leaker has since claimed that Breath of the Wild 2 has been delayed, likely into 2021. 
While it's always worth taking rumors with a big pinch of salt, Sabi is a pretty reliable leaker. The Twitter user leaked most of the big announcements from E3 2019 before they happened – reportedly even earning a cease and desist order from Nintendo.
There have also been rumors that Nintendo is working on a Nintendo Switch Pro, a more powerful console than the original Switch. It's been suggested that Breath of the Wild 2 would make an ideal launch title for a new console and if rumors prove to be true this could see Breath of the Wild 2 released in late 2021 or early 2022. However, this is all very much speculation at this point given the existence of such a console hasn't been confirmed or denied by Nintendo and no update has been given on Breath of the Wild 2's release date.
Breath of the Wild 2 trailers
We got our first glimpse of BOTW 2 at E3 2019, with this spooky trailer that shows Zelda and Link exploring an underground chamber – with some mysterious runes, glowing hands, and a brand-new haircut that has set the internet on fire. Suffice it to say we're excited.
The Legend of Zelda: Breath of the Wild 2 trailer is just 82 seconds long and there's no dialogue whatsoever but there are some clues to be gathered from it.
It features a torch-carrying Link and Zelda traversing a dark dungeon beneath Hyrule (no big surprise there). Spirit-like tendrils creep around the musty tomb they're exploring, with the pair riding a large elephant-like beast. Something shocks the pair, and then we cut to what appears to be the resurrection of some long-dead (and creepy looking) warrior. Could this be the return of Ganondorf?
The video then cuts to a long shot of Hyrule Field, with Hyrule Castle in the distance. There's a tremor, the castle is smothered with dust… and that's the end.
The clip finishes with a message that reads: "The sequel to Legend of Zelda: Breath of the Wild is in development."
We wouldn't usually expect so much animation to be done so early in development, but it probably helps that Nintendo already has the in-game engine from Breath of the Wild.
Breath of the Wild 2 news and rumors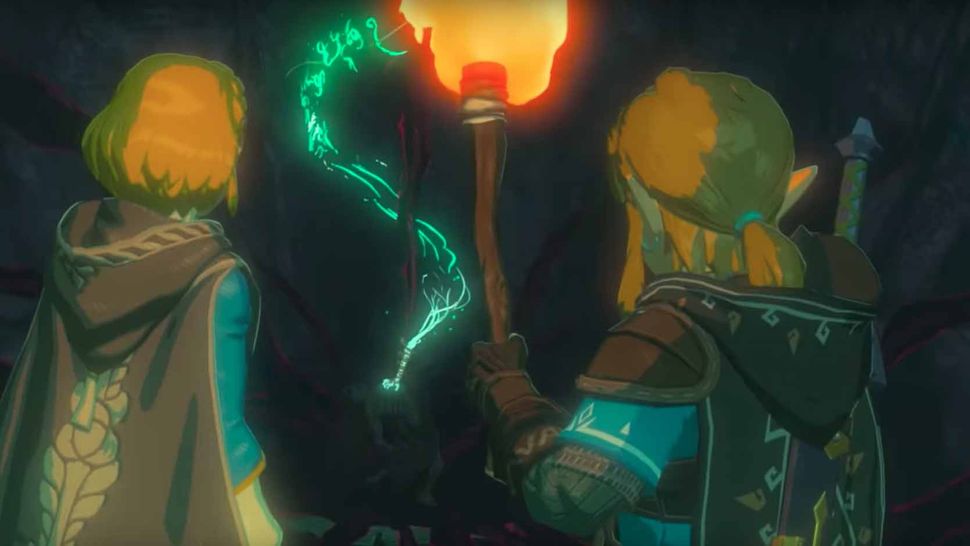 More information coming in 2021
Nintendo's Direct presentation in February 2021 didn't bring any more details on Breath of the Wild 2 but it wasn't completely absent. Zelda series producer, Eiji Aonuma, shared a small update during the presentation (via NintendoLife), noting that development is "proceeding smoothly" and that there's going to be more information on the game later this year.  
"I'm sure a lot of you saw me and thought there might be news to the sequel to the Breath of the Wild game." Aonuma said, "Unfortunately, we don't have anything to share right now. Development is proceeding smoothly and we should be able to bring you some information this year. For now, we'll have to ask you to wait just a bit longer."
In the meantime, Zelda fans can look forward to Skyward Sword HD which is coming to the Switch on July 16.
A potential release window?
Nintendo hasn't given any release window for Breath of the Wild 2 but prominent leaker Emily Rogers has said on Twitter (via GamesRadar) that the sequel could arrive in the 2021 holiday season, saying there's an "85-90% chance".
Rogers has accurately predicted Nintendo release plans before and their estimation lines up with other rumors that the game will release in late 2021, which is, coincidentally, when it's rumored that Nintendo might also release a new and more powerful Switch console. 
However, at the moment this is all just speculation and we can't be sure until Nintendo announces something official. Even if the plan is, at the moment, to release Breath of the Wild 2 in late 2021 games are frequently subject to delays, particularly during the ongoing pandemic, and Nintendo isn't likely to confirm anything until it's ready. 
Hyrule Warriors and a longer wait for news
Nintendo and Koei Tecmo Games have released a prequel to the original Legend of Zelda Breath of the Wild titled Hyrule Warriors: Age of Calamity. Set 100 years before the original game, it has Link, Zelda and friends (including the four Champions, who will be playable for the the first time) battle hordes of enemies in Hyrule before it was destroyed in the Great Calamity.
While it's exciting to have the chance to return to Hyrule in 2020, the release of this prequel does suggest it could be another while before we hear anything more about a sequel.
In revealing Age of Calamity, series producer Eiji Aonuma acknowledged the relative lack of news for Breath of the Wild 2 and said:
"In order to make the vast world you enjoyed exploring in the original game even more impressive, the team is working hard on its development, so you'll have to wait a bit longer before we can provide more updates."
Could Switch Pro rumors offer Breath of the Wild 2 hints?
There have been numerous reports that there's a Nintendo Switch Pro in the works for a 2021 release date. Reports of the new console come from the Economic Daily News and Bloomberg both of which suggests a more powerful Nintendo Switch console with upgraded interactivity and improved display quality could be coming next year. Along with these hardware upgrades, Bloomberg also suggests that Nintendo has a bunch of new games up its sleeve to launch alongside the console.
Given the original Breath of the Wild launched with the original Nintendo Switch back in 2017, launching Breath of the Wild 2 alongside a more advanced iteration of the console would be some nice symmetry. A 2021 release date for Breath of the Wild 2 doesn't seem completely ridiculous either given it's been in development for some time.
That said, all of this is mere conjecture until Nintendo confirms the existence of a Nintendo Switch Pro or gives us an update on the progress of Breath of the Wild 2. 
Skyward Sword and 35-year anniversary
In August 2020, an Amazon listing went live for a Skyward Sword port on Nintendo Switch. While it's now been pulled from the site, a port of the Wii title would make a lot of sense ahead of the BOTW 2 release, given the hints about villain Demise (the big bad in Skyward Sword) in the upcoming sequel.
With the Zelda franchise's 35-year anniversary coming in 2021, it's a good time for both a Skyward Sword port and a Breath of the Wild 2 game, and we expect we'd get the former a few months ahead of the latter, at least partially to remind fans of the characters in the former game.
Voice acting misunderstanding
In a sign of just how much fans are looking for news on Breath of the Wild 2, a recent interview with the voice actors behind the Spanish dubs of Zelda and Revali in The Legend of Zelda: Breath of the Wild on Spanish podcast A Coffee with Nintendo was seized upon and caused some controversy (via IGN). 
In the interview it seemed to be suggested that the voice actors had finished their work on the sequel, leading fans to think that the game might be further along in its development than originally thought. However, this proved to be incorrect. It was later clarified that the voice actors were joking and that context was lost due to translation issues. In fact, it's not even confirmed that they're working on the sequel. So we're left with no further clues as to progress on Breath of the Wild 2. 
E3 uncertainty and a Mario-dominated 2020
E3 2020's cancellation (physically and digitally) has made it hard to predict how Nintendo will reveal more about its games through the rest of the year.
Uncertainty has been increased by a report from GamesBeat (corroborated by VGC) suggesting that the ongoing pandemic and switch to a work-from-home model has caused complications for Nintendo.
Though Nintendo has not commented on this recent report, following the cancellation of E3 Nintendo said it will "continue to be flexible and redirect our efforts to other ways of keeping our fans up to date about our activities and products" but no specifics have been confirmed. 
Though it was by no means certain that there would be any kind of Breath of the Wild 2 news during Nintendo's E3 Direct, fans were no doubt hoping for at least an indication of how the game is progressing given June marked a full year since the game's announcement with little news in between. 
Interestingly, a further report from Eurogamer and Video Games Chronicle said that for the rest of 2020, the Nintendo Switch's first-party lineup is going to be very Mario-heavy in celebration of the franchise's 35th anniversary. 
This report has ended up being fairly accurate with the release of Super Mario 3D All-Stars and Paper Mario: Origami King, while Super Mario 3D World was announced for a 2021 release on Switch. 
With this in mind, it's worth pointing out that February 2021 is The Legend of Zelda's 35th anniversary so given Nintendo has celebrated Mario in 2020, there's a precedent for it doing the same for Zelda next year in some form or another. It would certainly be the perfect time to focus on Breath of the Wild 2. Of course, this is just conjecture and we won't know anything for sure until Nintendo makes some official announcements about the game. 
Rumors spreading
It's been a long time since anything solid on Breath of the Wild 2 has been announced and, as ever, in the absence of solid news rumors tend to creep in. 
The latest rumor has come from Tyler McVicker. Known primarily for his YouTube channel dedicated to Valve rumors, McVicker has recently announced he's setting up a Nintendo news channel and on a recent stream (around the 11 minute mark) teased some unconfirmed information (via NintendoLife) on the Zelda sequel. 
According to McVicker, Breath of the Wild 2 will take players back to the same Hyrule layout but introduce new things like "miasma"-like corruption and dungeons to add depth and detail to the map, taking inspiration from Red Dead Redemption 2 and another unnamed game. 
Anything said about Breath of the Wild 2 that hasn't come from Nintendo itself should naturally be taken with a huge pinch of salt.
A 2020 release date? It may be delayed
Last year, leaker Sabi (via wccftech) suggested that Breath of the Wild 2 is due for release in 2020, but warned that, "Zelda release dates are historically delayed, internally or publicly".
And it seems they were right, as the leaker has since claimed that Breath of the Wild 2 has been delayed, likely into 2021.
Monolith recruitment
The development of Breath of the Wild 2 is rolling along and updates are very thin on the ground at the moment. But according to a report by Video Games Chronicle, the game's co-developer Monolith Soft is looking to expand its team with adverts for a character modeler, concept art designer, map modeler and scenario planner for a new Zelda game. 
Hiring extra hands for the development of such a highly-anticipated game can't be a bad thing and suggests that the teams are working hard on getting the game ready for whatever the as-yet-unrevealed release date is. 
More hiring calls
There hasn't been much information around Breath of the Wild 2 since it was confirmed so naturally fans have been clamoring for a hint of where the game might be in its development. 
One hint comes from a Nintendo Japan tweet regarding some job listings for a "scenario planner" and a "level designer" for the game. The fact that such core roles are still being filled suggests that the game is still in the fairly early stages of development and isn't likely to be a 2020 release. We can't know for certain, of course, until Nintendo confirms an exact release date but we're inclined to say later rather than sooner. 
All the DLC that never was
In an interview with Kotaku, Zelda series producer Eiji Aonuma said there were originally plans for more DLC content for BOTW, after The Champion's Ballad and Master Trials add-ons that came in 2017.
"Initially we were thinking of just DLC ideas," says Anouma. "But then we had a lot of ideas and we said, 'This is too many ideas, let's just make one new game and start from scratch.'"
A darker turn for the series
All we really know at this point is how little we know. But boy are there rumors. The unexpected trailer has already sparked a huge amount of speculation, hopes and hot takes on what the next mainline Zelda title might include.
We've heard from Zelda series producer Eiji Aonuma that the game is going to have a darker tone than Breath of the Wild, and will even be "a little bit darker" than Majora's Mask (via IGN).
The trailer certainly supports this, with what looks like Ganondorf's corpse being resurrected by a disembodied hand, and seemingly imagery from 2006's Twilight Princess, which saw Hyrule turned into a bleak shadow realm – largely in response to the far cheerier and cartoonish The Legend of Zelda: Wind Waker.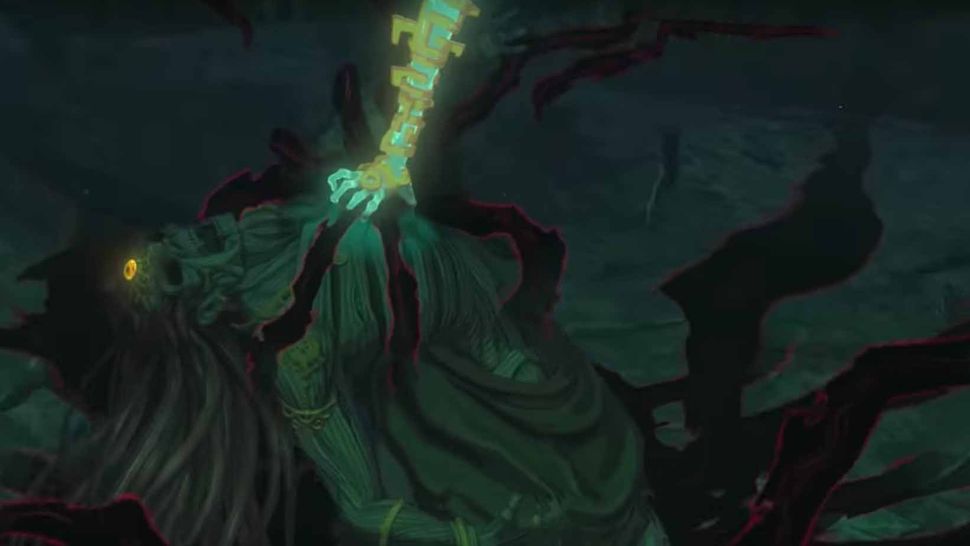 The Twilight realm
The glowing blue hand in the trailer is the biggest clue that we'll be seeing more of the Twili – shadow people descended from Hylians who tried to take the power of the Triforce for themselves. The hand is wrapped in twisting shapes reminiscent of Twilight architecture, while the swirling magic could remind some of the portals that let Twili invade Hyrule in the 2006 game.
We know that BOTW's dev team originally toyed with the idea of an alien invasion, and seeing shadow creatures teleport out of the sky could well have been what they have planned this time around.
A clue in the audio
Showing just how far some Zelda fans will go, reddit user u/ReroFunk (via Inverse)  pieced together a pretty convincing theory regarding Twilight Princess villain Zant, a Twili who served Ganondorf in the game. If you listen to the trailer's audio in reverse, there are certain notes that seem to echo the music played during your final encounter with Zant – who, while defeated, is adamant he'll return through the power of his "god".
u/ReroFunk also suggests we could see the demon king Demise return for the next Zelda game. Demise was the final boss in Skyward Sword, and revealed to be the original form of Ganondorf. The below still from the Zelda trailer also looks a lot like Demise when you think about it.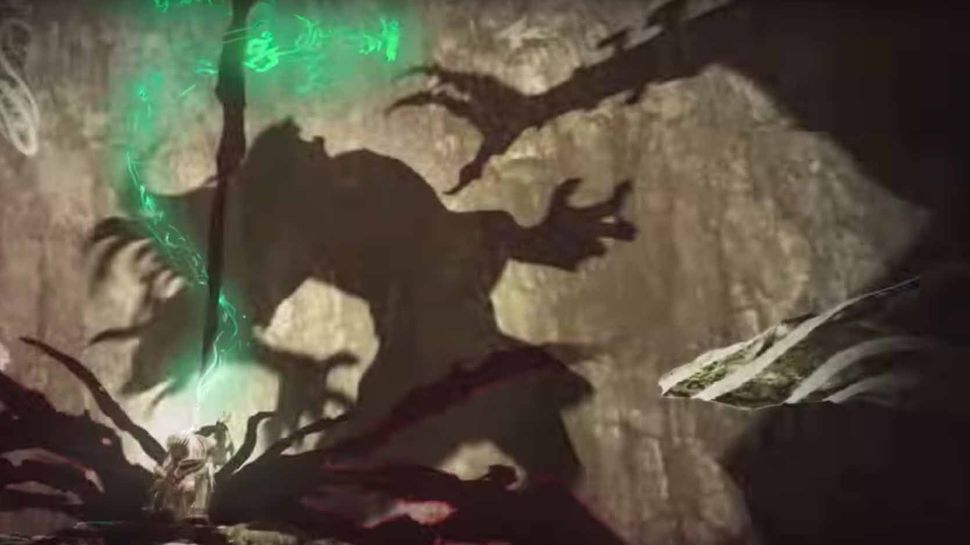 Lots of dungeons (and an extended map)
Rumors about the Breath of the Wild sequel suggest that we could be in for a treat in the form of a new map that's not like anything we've seen from Zelda before. What's more, a couple of new job listings suggest that Nintendo is looking for people to work on designing some dungeons and hidden bosses for the game – so far, so exciting.
Zelda's turn in the spotlight?
One of the favorite fan theories doing the rounds regards the Hyrule princess herself. She's shown in the trailer with a practical short haircut, and is dressed in a manner pretty similar to Link's own adventurer's gear – leading some to think she may be a playable character.
Zelda's devs have seemed pretty dismissive of the idea of a female Link in the past – sadly – but we may in this game see sections playing as Zelda, or at least with her playing a more active role in the story.