The best Instant pots are multi-cookers that can save valuable worktop space by pressure cooking, slow cooking, steaming, sauteing, baking, and even warming food for you. Taking the place of multiple kitchen gadgets such as slow cookers, pressure cookers, and even rice cookers, they take the burden off you to whip up creative meals every single night and ensure there's not a sink full of washing up at the end of it.
The most well-known cooking methods used by Instant Pots and multi-cookers are slow cooking and pressure cooking. Slow cooking at low temperatures for hours at a time develops a greater depth of flavor and ensures cheaper cuts of meat that are usually tough become soft and tender. Meanwhile, pressure cooking uses extreme levels of heat and pressure to speed up cooking time on items that usually take hours, such as lentils, homemade yogurt and beans. 
We know many people are hugely grateful for these souped-up cooking devices, which also allow you to prove bread, hard-boil eggs, steam vegetables and cook rice perfectly. They can make a huge difference to the way you schedule meals, the cooking techniques you use, and what you eat. 
Instant Pot was first launched in 2010 and in the decade since has very quickly become the most popular brand of multi-cooker, although established kitchen appliance firms Crock-Pot and Ninja also have multi-cookers. They may not have the same 'cult-status' as Instant Pot but they're just as versatile, with some even adding air frying and grilling to the long list of cooking modes. 
We've spent hours in the kitchen rustling up stews, soups, and risottos to select, rate and review the multi-cookers listed below, so you know which is the best model for you in 2021. 
For controlling timings and temperatures, we favored machines that gave us the best of both worlds. A hands-off, settings-only approach is helpful when slow cooking meat for stews or soups for hours on end, but we also looked out for customizable settings so cooking time and temperature can still be adjusted when necessary for steaming, sautéing, or searing. That way you've got a versatile device that can handle all kinds of foods and meals.
The best Instant Pots and multi-cookers of 2021: ranked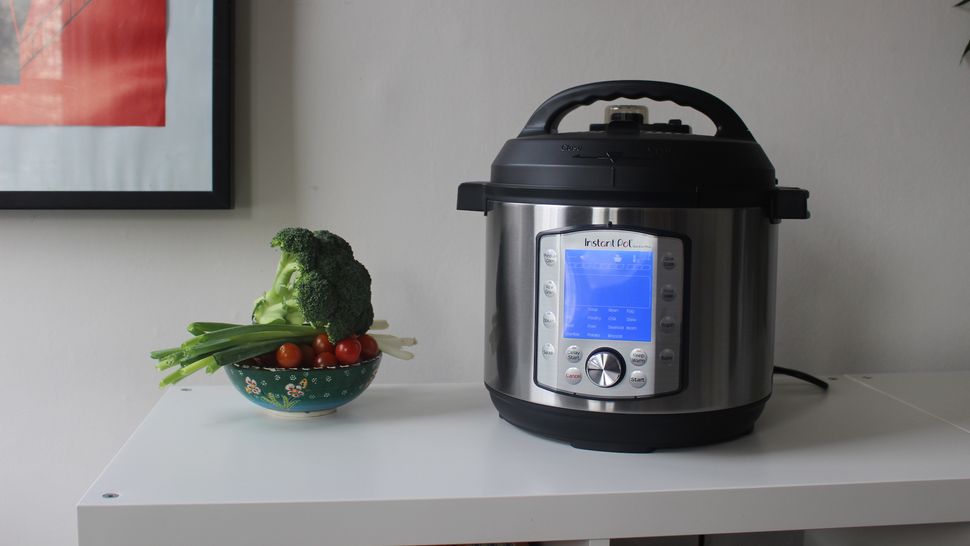 Instant Pot's newest kid on the block may be pricier than previous iterations, but it really can do it all. Like other Instant Pots, the Instant Pot Evo Duo Plus 60 sets out to replace seven kitchen appliances including a pressure cooker, slow cooker, steamer, yogurt maker and warmer but it's got more cooking modes (48 in total) than ever before. 
Faster both when cooking and when releasing pressure, the pot itself can now be used on the hob to sear food before cooking. It's even got handles, so you can take the pot straight to the table.
The most powerful Instant Pot to-date, it has a 1200w heating element compared to the 1000w element found in the Instant Pot Duo, which reduces the preheating time. A new plastic diffuser covers the pressure release vent, so there's far less sputtering and a gentler emission of steam. There's even a dial that makes it simpler to select a cooking mode, while a larger LCD screen has also been slightly tilted upwards, making it easier to read when you're busy in the kitchen
Available in 6 quarts (5.7-liters) in the UK and Australia, although in the US a bigger 8 quart (7.5-liters) version is also on offer, we think the Instant Pot Evo Duo Plus 60 is  worth the money if you want the best multi-cooker on offer today
Read our full review: Instant Pot Duo Evo Plus 60 
---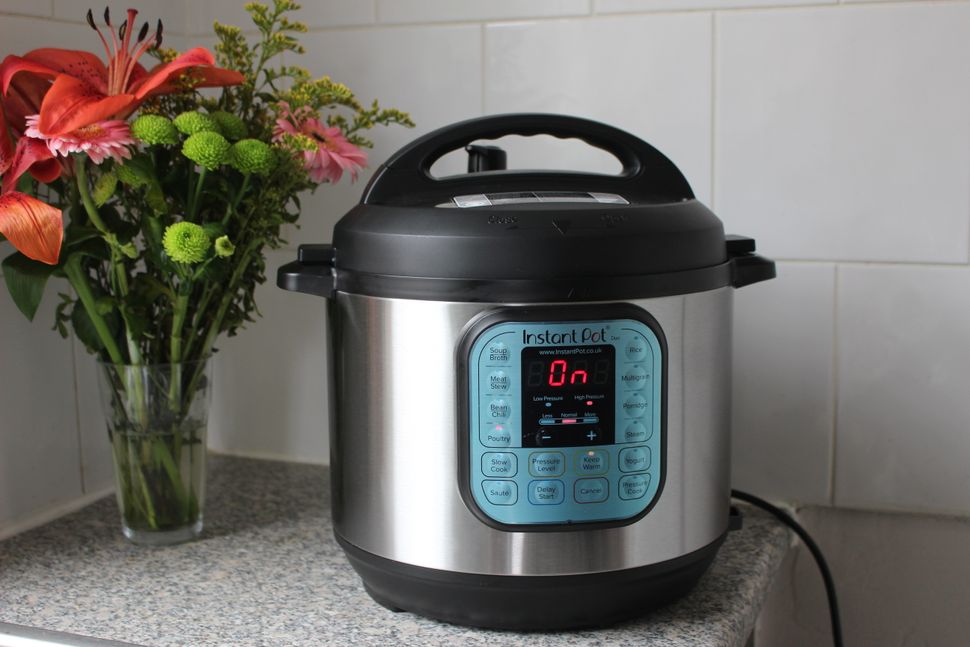 The predecessor to the Instant Pot's latest multi-cooker, the Instant Pot Duo, is just as effective when pressure cooking, slow cooking, steaming and making yoghurt, at a more affordable price.
It has 14 cooking modes, and true to its name, the Instant Pot speeds up lengthy cooking times, although not quite as quickly as its older sibling. The hotter or higher pressure you cook food at, the longer you'll need to wait for the pressure to reduce in the pan. In our review, we found in some cases this meant an extra 20 minutes of waiting until the pressure valve popped down – but as this is a safety mechanism, we're not going to penalize Instant Pot for it. It also has the ability to delay cooking for up to 24 hours, and the automatic keep-warm feature holds the temperature of the food until you serve it for up to 10 hours.
A compact model with searing, steaming and roasting under the lid, the pot may not be able to be used on the hob, but this Instant Pot still packs a punch bringing a much-needed update to the pressure cooker design. 
Read the full review: Instant Pot Duo V2 7-in-1 Electric Pressure Cooker 
---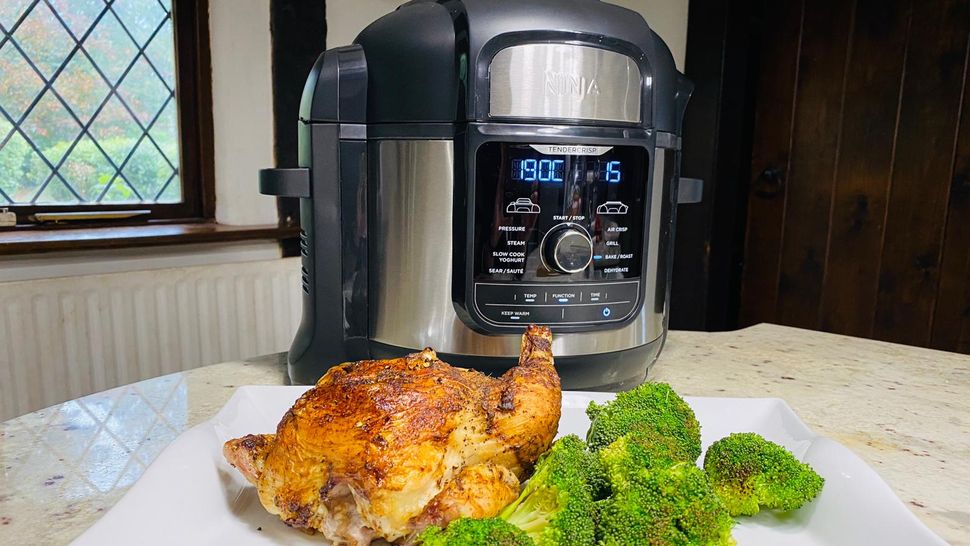 Adding air frying, grilling and dehydrating to the long-list of cooking methods offered by competitor multi-cookers, the Ninja Foodi Max Multi-Cooker really can do it all, although some methods are more effective than others.
Roasting a whole chicken in the Ninja Foodi Max Multi-Cooker resulted in tender meat that was still moist but had a crisp golden skin, but chips weren't as successful as they weren't cooked through.  We also used the dehydration setting to make our banana chips, and while the results were tasty, the six-hour program is probably a little too long compared to popping to the shop.  
The digital control panel and dial make it easy to select the cooking mode you want, while adjusting the time and temperature. The 8-quart (7.5-liters) pot means you can cook enough to feed up to six people in one go and there's a good choice of accessories including a cook and crisp basket for chips and a two-tier reversible rack to cook mains and sides simultaneously, which is good for layering vegetables with meats, poultry or fish.  
The priciest multi-cooker we've reviewed to date, it's bulky and isn't the kind of appliance that will blend into the background in a kitchen but for those with plenty of mouths to feed, it could be a worthy investment.  
Read our full review: Ninja Foodi Max Multi-Cooker
---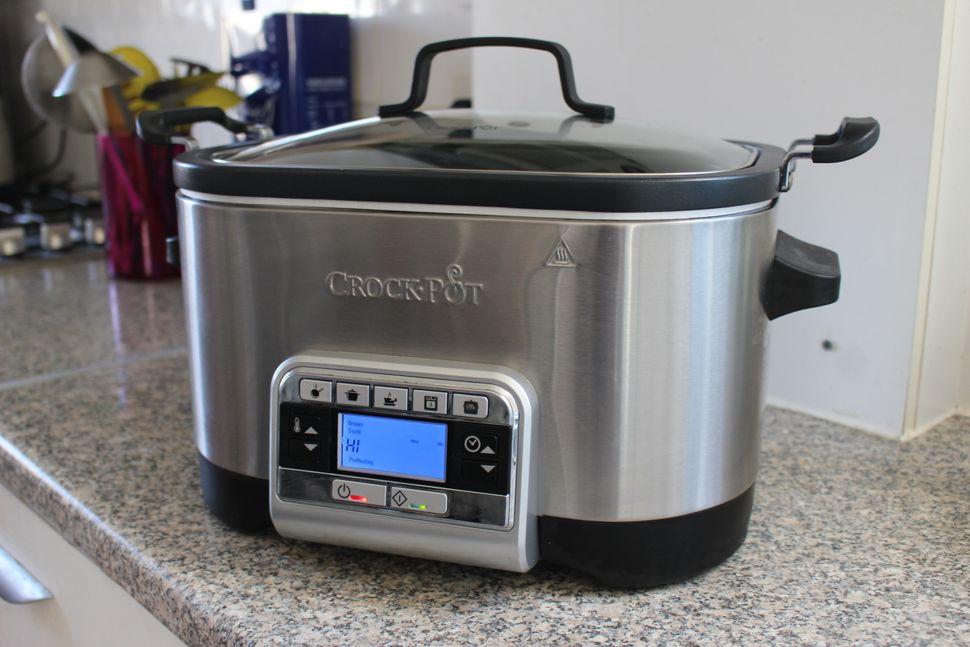 A household name almost interchangeable with the slow cooker, Crock-Pot's multi-cooker design has come a long way since the 1970s. 
Their Digital Slow and Multi Cooker offers all the benefits of a slow cooker, plus super high temperatures for roasting and baking. We loved the handles and capacity, which are ideal for pot-lucks and large families. 
Where it starts to fall down is with its lack of pressure cooking capabilities and the fact its non-stick pot can mean you have to keep a close eye on what's being cooked – not great when the main draw of a multi-cooker is being able to set it up, walk away and forget about.
Read our full review:  Crock-Pot CSC024 5.6L Digital Slow and Multi Cooker
---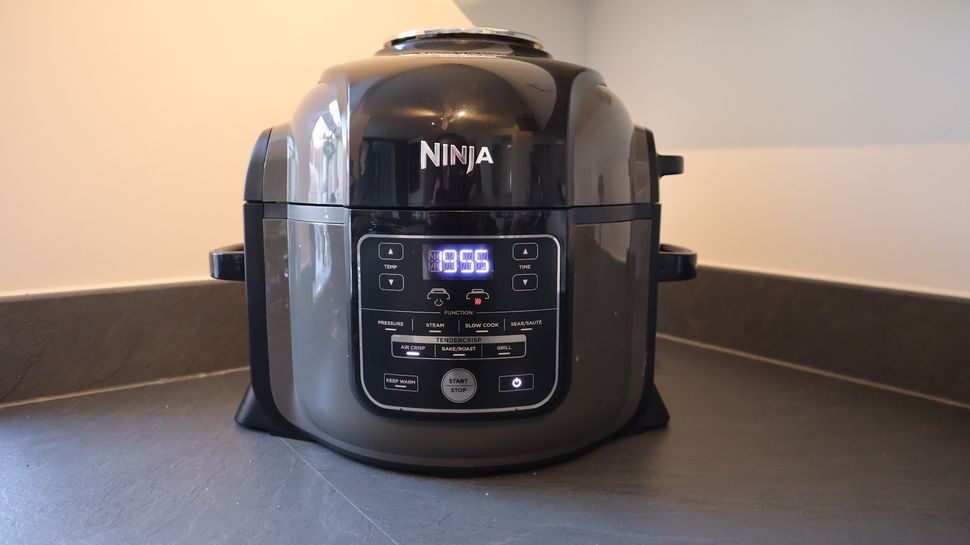 With a smaller capacity and fewer cooking functions than the Ninja Foodi Max, the Ninja Foodi Multi-cooker is not quite as expensive but still pricier than most of its competitors. It's certainly not any less capable, however. 
It offered up the same air-fried chicken with crispy skin and succulent meat but again left us disappointed with rock-hard chips. That said we were impressed with the dishes cooked when using the slow cooking and pressure cooking settings. There's also a 30-minute Keep Warm function that kicks in to stop your meal from spoiling.
It comes with a 6.3-quart (6-liters) pot so you'll easily be able to feed a small family or batch cook using the multi-cooker, and there's also a choice of accessories including a 3.2L removable frying basket, grilling rack, and extra lid for when pressure cooking
However, it's one of the most cumbersome multi-cookers on the market. Its bulky lid opens to the side on a hinge meaning it can't be fully opened while tucked underneath a kitchen cupboard so if space is at a premium it may not be the multi-cooker for you.  
Read our full review: Ninja Foodi Multi-Cooker
---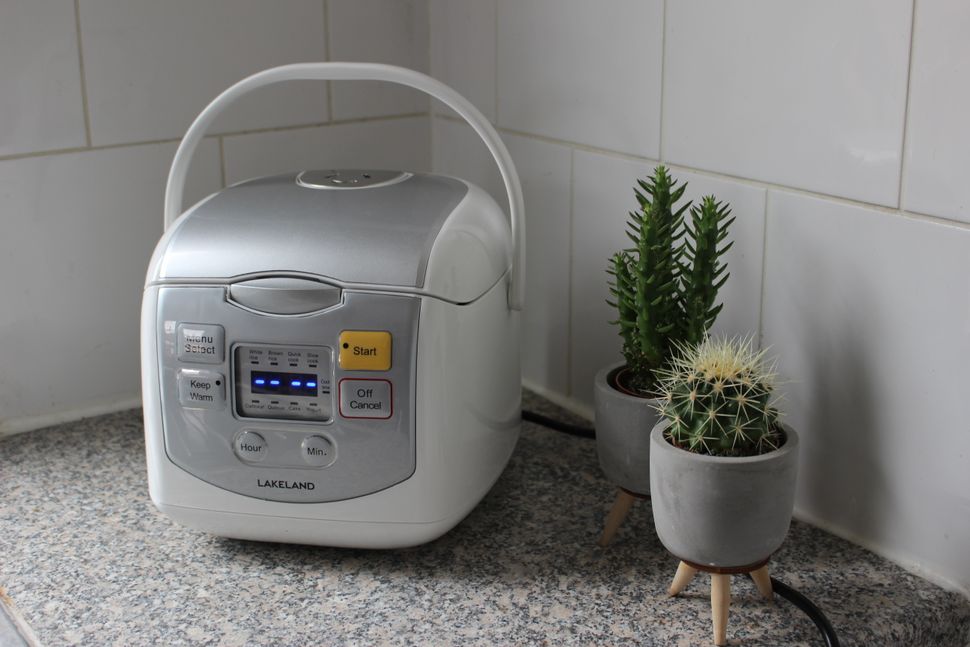 While it might feel like the world of pressure cookers and slow cookers only caters for families the size of the Waltons, Lakeland's Mini Multicooker makes slow cooking for one a viable option. 
This machine strips it back to the bare essentials in a small, compact, and convenient model, that still covers rice, yoghurt, porridge and bread proving.
However, don't get too ambitious with those portion sizes – overdo it, and you'll be left with a messy overflow to clean up once your brew starts bubbling. It's also the least versatile machine on this list, at least in terms of pre-set cooking options to work with.
Read our full Lakeland Mini Multi Cooker 1.8L review
---